Cck
Create a product node programatically. Hello everyone, I am in a situation where I need to create a product node on the fly.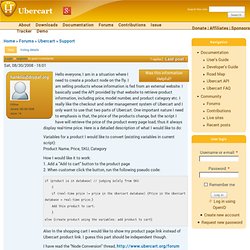 I am selling products whose information is fed from an external website. I basically used the API provided by that website to retrieve product information, including price, model number, and product category etc. I really like the checkout and order management system of Ubercart and I only want to use that two parts of Ubercart. Quick-and-dirty CCK imports. Programmatically Create, Insert, and Update CCK Nodes | doug. I am working on a new module (uscongress module).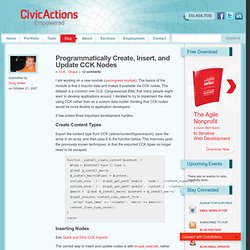 The basics of the module is that it imports data and makes it available via CCK nodes. The dataset is a common one (U.S. Anyone up for explaining the $options array in the l() function for D6? | groups.drupal.org. I am trying to get my head around the new l() function in drupal 6, l($text, $path, $options = array()), but I didn't understand the arguments after the $path argument in version 5 and I haven't been able to find a reference on api.drupal.org (or anywhere on the web for that matter)that explains the available indexes and values for the $options array.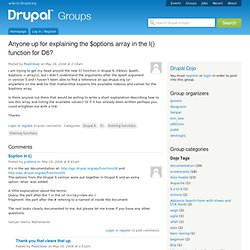 Is there anyone out there that would be willing to write a short explanation describing how to use this array and listing the available values? Or if it has already been written perhaps you could enlighten me with a link. Thanks. What is the Content Construction Kit? A View from the Database. This article describes the Content Construction Kit, version 5.x-1.4.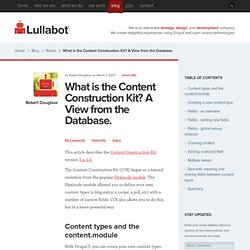 The Content Construction Kit (CCK) began as a natural evolution from the popular Flexinode module. The Flexinode module allowed you to define your own content types (a blog entry, a recipe, a poll, etc) with a number of custom fields. CCK also allows you to do this, but in a more powerful way. Content types and the content.module. Creating a Compound Field Module for CCK in Drupal 6.x, from Poplar ProductivityWare Articles.
When setting up a site using the Drupal content management system, you'll often find that you need to define content types that have fields attached to them, beyond the default Title and Body.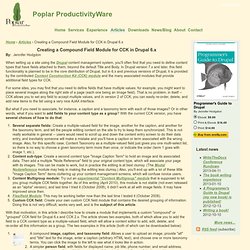 In Drupal version 7.x and later, this field functionality is planned to be in the core distribution of Drupal, but in 6.x and previous versions of Drupal, it is provided by the contributed Content Construction Kit (CCK) module and the many associated modules that provide additional field types for CCK. For some sites, you may find that you need to define fields that have multiple values; for example, you might want to place several images along the right side of a page (each one being an Image field). That is no problem, in itself -- CCK allows you to set any field to accept multiple values, and in version 2 of CCK, you can easily re-order, delete, and add new items to the list using a very nice AJAX interface.
Getting Started with CCK. Last updated September 24, 2010.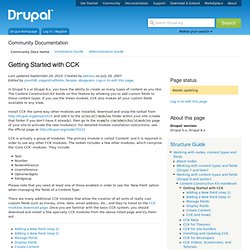 Created by bekasu on July 26, 2007.Edited by JoostVB, vegantriathlete, Senpai, dougvann. Log in to edit this page. In Drupal 5.x or Drupal 6.x, you have the ability to create as many types of content as you like.
---