Blio
Opening the eBook Market. It is fashionable to declared Digital Rights Management (DRM) dead.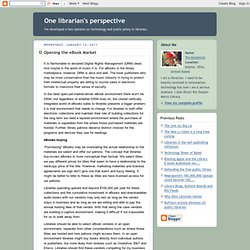 And maybe in the world of music it is. For eBooks in the library marketplace, however, DRM is alive and well. The book publishers who may be more conservative than the music industry in trying to protect their intellectual property are willing to stymie sales in electronic formats to maximize their sense of security. In the ideal open-yet-market-driven eBook environment there won't be DRM, but regardless of whether DRM lives on, the closed vertically integrated world of eBooks sales to libraries presents a bigger problem; it is that environment that needs to change. How To Get Library Ebooks on the iPad/iPhone, No Sync Required " LJ Insider. The day library patrons can download and read a library ebook directly on a mobile device will be the day I can die happy.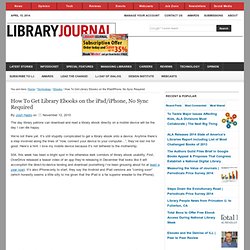 We're not there yet. It's still stupidly complicated to get a library ebook onto a device. Anytime there's a step involved along the lines of "now, connect your device to your computer…", they've lost me for good. Here's a hint: I love my mobile device because it's not tethered to the mothership. Future of eReading might not be iPad, but Blio | Creating the 21st-century classroom. Free software from education technology pioneer Ray Kurzweil could shake up the eReader market By Meris Stansbury, Associate Editor Read more by Meris Stansbury.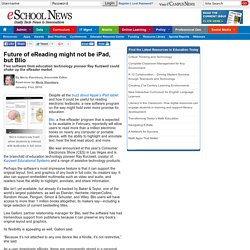 Blio Powered By Baker. Baker. With eBooks, the world reads differently.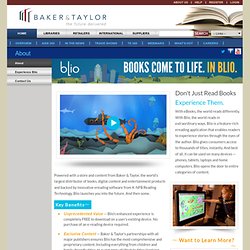 With Blio, the world reads in extraordinary ways. Blio is a feature-rich ereading application that enables readers to experience stories through the eyes of the author. Blio gives consumers access to thousands of titles, instantly. And best of all, it can be used on many devices — phones, tablets, laptops and home computers. Blio eReader. Book Place - Book Place. Wiley eReader Resource - Home. Baker. NEW YORK, May 27 /PRNewswire/ -- Amid surging demand and interest in e-books, Baker & Taylor, a leading provider of digital media services to publishers worldwide, and LibreDigital, Inc., a leading developer of digital publishing solutions, today at Book Expo America announced an expanded agreement to partner for the delivery of e-books– creating a one-stop, comprehensive suite of services for publishers.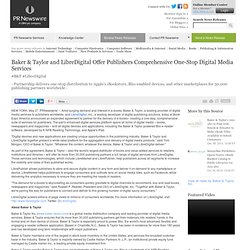 The pair's enhanced digital services platform spans all forms of digital media – books, newspapers and magazines – and all digital devices and applications, including the Baker & Taylor-powered Blio e-reader software, developed by K-NFB Reading Technology, and Apple's iPad. "Digital devices and new applications are creating unique opportunities in the publishing industry. Baker & Taylor and LibreDigital together present a white-label platform for the aggregation and delivery of digital media products," said Tom Morgan, CEO of Baker & Taylor. Librarians to Ebook Creators and Sellers: Library Model Needed - 5/26/2010 - Library Journal. Sorry, but the article or page you're looking was not found. In May 2013, Library Journal underwent a major server migration for its archived web content, which happened slightly sooner than originally expected. As a result, much of the content from 2004 to 2012 is currently unavailable to the public. However, this content has not been lost, and our web staff is in the process of converting these past articles for integration into the WordPress-based website you see here, which was launched in 2012. Many of these older articles have already been restored, and more will continue to be restored on an ongoing basis as they are cleaned up. Ultimately, this migration will allow for greater discoverability of all archived LJ content, both on the website and across the Web in general.
Ebrary Launching into Public Library Market with New Collection - 5/24/2010 - Library Journal. No Shelf Required — A moderated discussion of the issues surrounding eBooks, for librarians and publishers. Total BooX Launches Free Reading for All April 11th, 2014 · by Mirela Roncevic · No Comments Libraries are used to receiving a lot of love from vendors and publishers during National Library Week, which this year kicks off on April 13th.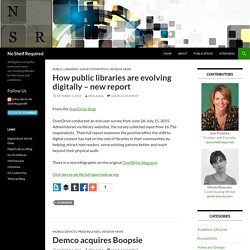 Many vendors have already made announcements about opening up their content, including ProQuest and Oxford University Press. About. Calibre started life on 31 October, 2006, soon after the release of the SONY PRS-500, the first e-ink based reader to be sold commercially in the US.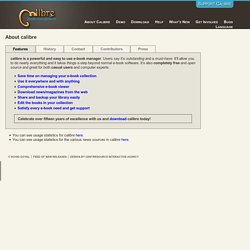 At the time, I was a graduate student, with a lot of time on my hands. The PRS-500 did not work at all with Linux, my operating system of choice, so I decided to reverse engineer the USB protocol that it used, to get it working on Linux. This was accomplished with the help of the fine folks over at mobileread.com and calibre was born, albeit named libprs500. At the time there were no satisfactory tools to convert content into the LRF format, used by the SONY reader, so I decided to implement a converter to convert the most popular e-book formats to LRF. INTERVIEW: Mark Coker of Smashwords talks about the future of e-publishing | The Book Shed.
Ebookshare - eBook Torrent,Free eBooks Download. MobileRead Forums. MyiLibrary. HighWire Presents Findings From eBooks Librarian Survey. Stanford, California / March 4 2010 HighWire Press has released the full results of a Fall 2009 survey of librarians on their attitudes and practices related to ebooks [snip].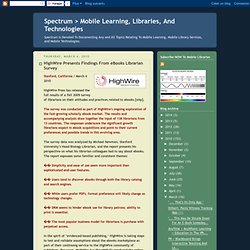 The survey was conducted as part of HighWire's ongoing exploration of the fast-growing scholarly ebook market. The results and accompanying analysis draw together the input of 138 librarians from 13 countries. The responses underscore the significant growth librarians expect in ebook acquisitions and point to their current preferences and possible trends in this evolving area. The survey data was analyzed by Michael Newman, Stanford University's Head Biology Librarian, and the report presents his perspective on what his librarian colleagues had to say about ebooks. Kindle and Ebook Reader Notes | Library Leadership Network. Skip to content Home » Search » Page Not Found Spotlight LYRASIS Announces No Processing Fee for Credit Card Payments Effective August 1, LYRASIS will no longer charge a processing free for payments made via credit cards.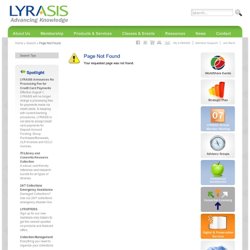 In keeping with current banking procedures, LYRASIS is not able to accept credit card payments for Deposit Account Funding, Group Purchases/Renewals, CLP Invoices and OCLC invoices. ITI Library and Consortia Resource Collection A robust, cost-friendly reference and research bundle for all types of libraries 24/7 Collections Emergency Assistance Damaged Collections? Free Ebooks, Ebook Price Comparison | Inkmesh. Introduction to Metadata (Research at the Getty) The Open Library.
---