Accessibility
w3c. Introduction to Web Accessibility. You are here: Home > Articles > Introduction to Web Accessibility Introduction Most people today can hardly conceive of life without the internet.
Some have argued that no other single invention has been more revolutionary since Gutenberg's printing press in the 1400s. Now, at the click of a mouse, the world can be "at your fingertips"—that is, if you can use a mouse... and see the screen... and hear the audio—in other words, if you don't have a disability of any kind. Firefox Accessibility Extension Documentation: Overview and Installation. Firefox Accessibility Extension. Accessibility. Web accessibility is the goal of making web pages easier to navigate and read.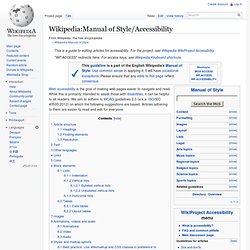 While this is primarily intended to assist those with disabilities, it can be helpful to all readers. We aim to adhere to WCAG guidelines 2.0 (a.k.a. Section 508: The Road to Accessibility. Accessibility Technology Initiative: Web Accessibility. Policies Relating to Web Accessibility. Disclaimer The policy links on this page are compiled as a resource by the World Wide Web Consortium's (W3C) Web Accessibility Initiative (WAI) Education and Outreach Working Group (EOWG).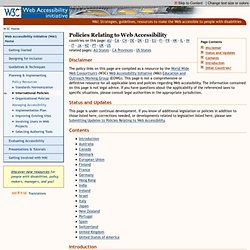 This page is not a comprehensive or definitive resource for all applicable laws and policies regarding Web accessibility. The information contained on this page is not legal advice. If you have questions about the applicability of the referenced laws to specific situations, please consult legal authorities in the appropriate jurisdiction. 10 tips for a usable website. Does My Web Site Suck. 165 Mortal Sins That Will Send Your Site to Web Design Hell Checklist 1 | Checklist 2 | What do I do now?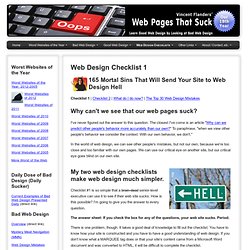 | The Top 30 Web Design Mistakes Why can't we see that our web pages suck? I've never figured out the answer to this question. The closest I've come is an article "Why can we predict other people's behavior more accurately than our own? " Law Offices of Lainey Feingold. How We Really Use the Web. Why are things always in the last place you look for them?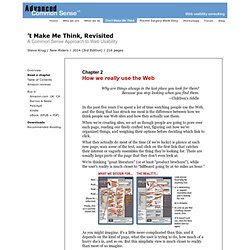 Because you stop looking when you find them. —Children's riddle. Useit.com: Jakob Nielsen's Website. Section 508 Checklist. You are here: Home > Articles > Section 508 Checklist Part 1: HTML The following standards are excerpted from Section 508 of the Rehabilitation Act, §1194.22.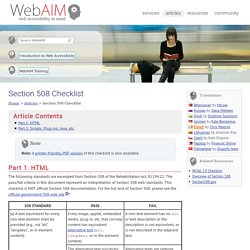 The pass/fail criteria in this document represent an interpretation of Section 508 web standards. Web Accessibilty Toolbar. The Web Accessibility Toolbar (WAT) for IE - 2012 can assist in evaluating a web page for compliance to the Web Content Accessibility Guidelines version 2.0 (WCAG 2.0).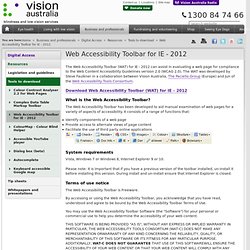 The WAT was developed by Steve Faulkner in a collaboration between Vision Australia, The Paciello Group (Europe) and Jun of the Web Accessibility Tools Consortium. Download Web Accessibility Toolbar (WAT) for IE - 2012 What is the Web Accessibility Toolbar? Using the AIS Web Accessibility Toolbar. You are here: Home > Articles > Using the AIS Web Accessibility Toolbar Author: Steven Faulkner of Accessible Information Solutions - external link Date: August 2005 Introduction.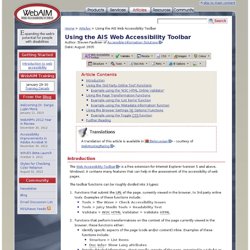 Dive into Accessibility.
---