Adult clothing
Flounce DIY – Sewing Blog. Flounces are great for summer time!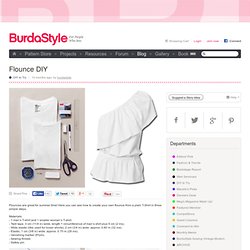 Here you can see how to create your own flounce from a plain T-Shirt in three simple steps. Materials: - 1 man's T-shirt and 1 smaller woman's T-shirt. On the Banks of Squaw Creek: Refashions. So…I found a couple long sleeved tees at walmart yesterday for $1 each.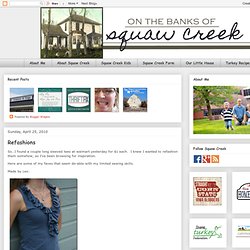 I knew I wanted to refashion them somehow, so I've been browsing for inspiration. Here are some of my faves that seem do-able with my limited sewing skills. Made by Lex: Little Birdie Secrets: Ruffles and Roses. Crafterhours: Tee to Tank: A Tutorial by Jen from Upcycled Education. This is one of my favorite t-shirt refashions of all time.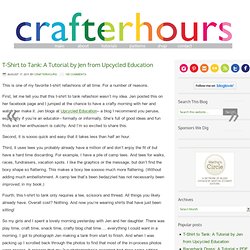 For a number of reasons. First, let me tell you that this t-shirt to tank refashion wasn't my idea. Jen posted this on her facebook page and I jumped at the chance to have a crafty morning with her and watch her make it. Jen blogs at Upcycled Education– a blog I recommend you peruse, especially if you're an educator– formally or informally. She's full of good ideas and fun finds and her enthusiasm is catchy. The world's best sewing tutorials in no particular order. Alina's Adventures sew everything A P indicates a printable tutorial or pdf pattern.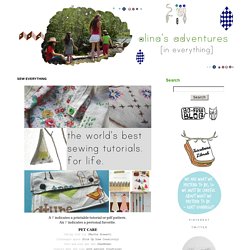 An F indicates a personal favorite. PET CARECatnip fish toy (Martha Stewart)Clothespin apron (Pick Up Some Creativity)Cool and cozy pet bed (Sew4Home)Country gent dog coat with pattern (Craftzine)Collapsible travel dish (Craft Stylish)Color spectrum pet bed (Design Sponge)Custom-fit doggy coat (Pretty Little Things)Dog leash (The Purl Bee)Embellished doggy sweater (Miss Lovie)Fabric dog coat pattern (Cut Out & Keep) PFabric pet bed (Inspiration & Realization)Fabric pup tent (CasaSugar)Family connection writing center (Craftzine)Fleece dog bed (Dog Under My Bed)Pet pouches (The B Line)Sweater dog toys (Craft Stylish)Squeaky doggie bone (Laura Griffin)Water resistant doggy coats (Martha Stewart)
Yoga pants
Skirts. YouCanMakeThis.com. T-Shirt Dress - Martha Stewart Kids' Crafts. Empire Cut Blouse. Empire cut Blouse, T-Shirt reconstruction with Tutorial I've been fascinated with all the T shirt reconstruction I've seen around, so yesterday, I was bored and decided to make my own reconstruction..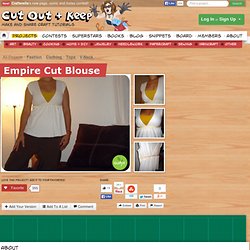 I had a big t shirt (it was my mom's) I trace it and start cutting… This is how it looks like, I can't wear tight T-shirts, very often I get stomach inflammation because thanks to digestive problems, and sometimes I look like I'm 4 months pregnant, so this blouse is perfect for those days. Of course I need to perfection it but it wasn't that bad for my first attempt, what do you think? Well I thought I made a tutorial of how I made it.. please bear with me since English is not my first language, and if something needs corrections or do you need more explanation please let me know, this will also be my first tutorial.
Sewing Patterns Online. This is a collection of patterns and links to sewing patterns for clothing for older children and adults.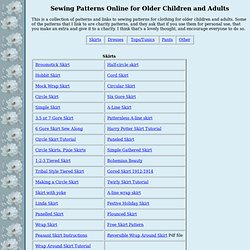 Some of the patterns that I link to are charity patterns, and they ask that if you use them for personal use, that you make an extra and give it to a charity. I think that's a lovely thought, and encourage everyone to do so. Return to Another Family Spot Links about Judaism for kids Credits for graphics and webrings Like the page?
---