self improvement
Get flash to fully experience Pearltrees
post written by: Marc Email Far more often than any of us like to admit, our actions are driven by an inner desire to impress other people. This desire is often reflected in the brand name products we use, the bars and restaurants we frequent, the houses and cars we buy and the careers we choose.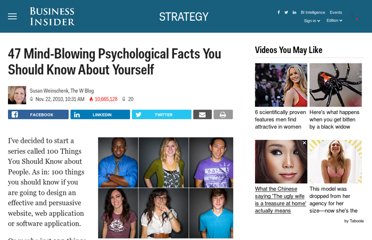 WHAT YOU ARE ABOUT TO READ IN THE NEXT PARAGRAPH IS COMMONLY BELIEVED, BUT NOT TRUE – You read by recognizing the shapes of words and groups of words. Words that are in all capital letters all have the same shape: a rectangle of a certain size. This makes words displayed in all uppercase harder to read than upper and lower case (known as "mixed case"). Mixed case words are easier to read because they make unique shapes, as demonstrated by the picture below. OK, NOW THE TRUE STUFF STARTS — When I started this article the topic was supposed to be why all capital letters are harder to read.
It is interesting to consider why we instinctively respect some people, but others can be very hard to appreciate. Respect doesn't necessarily mean we have to agree with everything they say; respect comes from people's inner life, and the values and beliefs they hold. If someone is sincere, honest and self effacing it is easy to respect them, even if they believe in a different life philosophy. If we can understand why some people instinctively gain respect, we can learn to implement these characteristics in our own life. Talk Less
The following list of values will help you develop a clearer sense of what's most important to you in life, as explained in the article Living Your Values . Simply print out this page, mark the values which most resonate with you, and then sort your list in order of priority. As you scan the values list below, you may find that while most values have little or no significance to you (and some may even seem negative to you), there are those values that just jump out and call to you, and you feel, "Yes, this value is part of me."
post written by: Marc Email At the cusp of new beginnings many of us take time to reflect on our lives by looking back over the past and ahead into the future.
Behance just started collaborating with a group of fourteen established blogs, all very different, but all with a shared interest in helping people increase productivity (among other self-improvements). We call this collaboration " LifeRemix ." The Behance team sees this as a great opportunity to share our tips for productivity beyond the creative professional community. C ollaborations between organizations with different backgrounds often result in great realizations. To kick off LifeRemix, our group of bloggers collected a list of our 100 best "tips to improve your life."
Are you sending and receiving accurately? © iStockphoto Regardless of the size of your organization – whether it's a large corporation, a small company, or even a home-based business – you need good communication skills if you want to succeed. With more than 75 individual articles , this communication mini-site teaches you these skills. We start by looking at the core ideas behind successful communication, and we offer a brief quiz that helps you evaluate your current skills.
From Los Angeles Times: It's not all about you Chances are, others aren't judging you as harshly as you think, if at all.
Developing good habits is the basic of personal development and growth. Everything we do is the result of a habit that was previously taught to us. Unfortunately, not all the habits that we have are good, that's why we are constantly trying to improve. The following is a list of 30 practical habits that can make a huge difference in your life.
We know surprisingly little about our own personalities, attitudes and even self-esteem. How do we live with that? How do you imagine your own mind? I sometimes picture mine as a difficult and contrary child; the kind that throws a stone at you for no reason and can't explain itself.
A mature person is one who does not think only in absolutes, who is able to be objective even when deeply stirred emotionally, who has learned that there is both good and bad in all people and all things, and who walks humbly and deals charitably. ~ By Eleanor Roosevelt There was a short story about life, discussed between an old wise man and a young boy, which I'll never forget. It explicate why life is what we make it.