Music Lists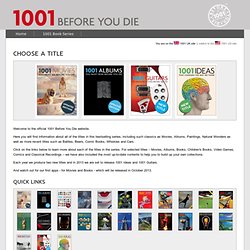 1001 Series
You are on the 1001 UK site | switch to the 1001 US site Welcome to the official 1001 Before You Die website.
Map of Metal
Rolling Stone | Best Ever Lists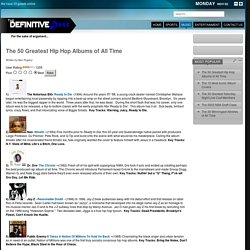 definitivedose.com
Written by Ben Pogany The Notorious BIG- Ready to Die -(1994) Around the years '87-'88, a young crack dealer named Christopher Wallace began entertaining local passersby by rapping into a beat-up amp on the street corners around Bedford-Stuyvesant, Brooklyn.
All sizes | Rock 'N' Roll Metro Map v1.0
100 Greatest Guitar Solos...
DigitalDreamDoor.com - Home Page
If you have any comments, suggestions, criticisms, corrections, interesting info, or something to contribute, please send them to webmaster@digitaldreamdoor.com If you want to discuss or comment about any list, click Music Forum DigitalDreamDoor.com is to be used for entertainment, educational, or research purposes only. Enjoy! (Music & Movie statistics/awards lists, lyrics, & Images are displayed as reference for educational, or research purposes.) Never be afraid to try something new.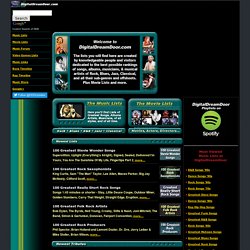 100 Ultimate Folk Rock Albums