ThEmEs
Using Themes
Using Themes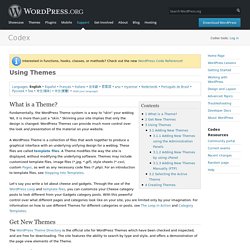 Using the Hybrid Tabs WordPress plugin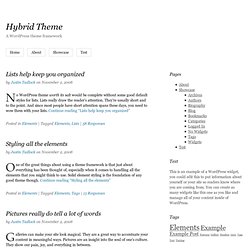 Hybrid Theme: A WordPress theme framework
Lists help keep you organized
Hybrid News: Just another WordPress weblog
Mag Demo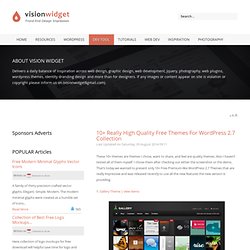 These 10+ themes are themes I chose, want to share, and feel are quality themes. Also I haven't tested all of them myself. I chose them after checking out either the screenshot or the demo, That's today we wanted to present only 10+ Free Premium-like WordPress 2.7 Themes that are really impressive and was released recently to use all the new features the new version is providing.
10+ Really High Quality Free Themes For WordPress 2.7 Collection
Free Wordpress Themes, Blogger Templates and Blog Skins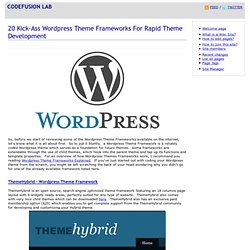 So, before we start of reviewing some of the Wordpress Theme Frameworks available on the internet, let's know what it is all about first. So to put it bluntly, a Wordpress Theme Framework is a reliably coded Wordpress theme which serves as a foundation for future themes. Some frameworks are extendable through the use of child themes, which hook into the parent theme and tap up its functions and template properties.
20 Kick-Ass Wordpress Theme Frameworks For Rapid Theme Developme
Theme base para Wordpress basado en Grid 960 | Designios
How To Create Your Own Wordpress Theme - Jonathan Wold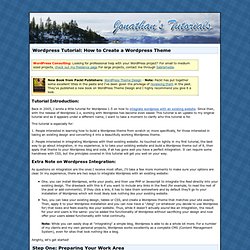 WordPress Consulting: Looking for professional help with your WordPress project? For small to medium sized projects, check out my freelance page For large projects, contact me through Sabramedia.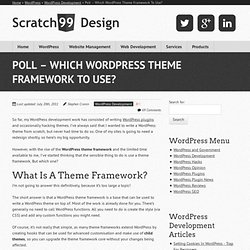 So far, my WordPress development work has consisted of writing WordPress plugins and occasionally hacking themes. I've always said that I wanted to write a WordPress theme from scratch, but never had time to do so.
Poll – Which WordPress Theme Framework To Use? | More Than Scrat
The Buffet Framework
The Buffet Framework is a theme framework designed not only for the theme developers who will be using the theme actions and filters to create the child themes, but also for the end users who would be able to add and remove what they want. Like most WordPress theme frameworks, the Buffet Framework utlises WordPress actions and filters to allow theme developers to add additional content without editing the templates files using the child theme concept.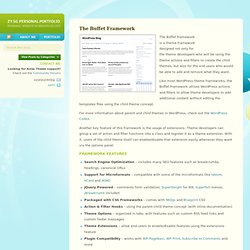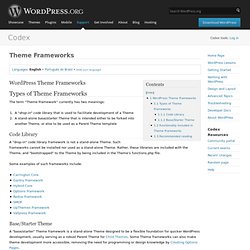 Theme Frameworks
Theme Frameworks
How to make a child theme for WordPress: A pictorial introductio
Five clean, minimalist themes for WordPress - op111.net
IAMWW WordPress Themes » WordPress Theme Demos
CSS
Oh, yuck. This is the old, busted guide.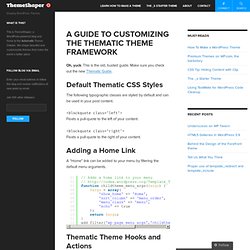 How To Change The Look of Thematic With a WordPress Child Theme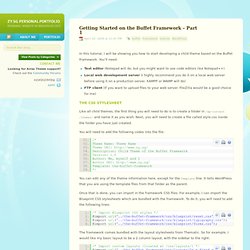 In this tutorial, I will be showing you how to start developing a child theme based on the Buffet Framework.
Getting Started on the Buffet Framework – Part 1
Elias Torres » Blog Archive » Another weapon against Wordpress T
Unique Blog Posts and WordPress Tips
Today I would like to talk about blogs that have a unique design for each post.
Obviously this style isn't suitable for every website.
The Death Of The Blog Post - Smashing Magazine
You're Killing Me Zappos
Support » Theme install error from functions.php
When installing my theme on a live server (local install on MAMP works fine) package i am getting the error show below.
Basic Maths