ThEmEs
Using Themes. Using Themes Languages: English • Español • Français • Italiano • 日本語 • 한국어 • Português do Brasil • Русский • ไทย • 中文(简体) • 中文(繁體) • (Add your language) What is a Theme?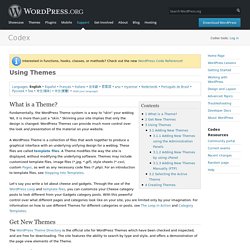 Fundamentally, the WordPress Theme system is a way to "skin" your weblog. Yet, it is more than just a "skin. " Using the Hybrid Tabs WordPress plugin. Hybrid Theme: A WordPress theme framework. Lists help keep you organized By Justin Tadlock on November 2, 2008 No WordPress theme worth its salt would be complete without some good default styles for lists.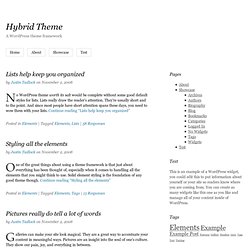 Lists really draw the reader's attention. Hybrid News: Just another WordPress weblog. Mag Demo. Free Wordpress Themes, Blogger Templates and Blog Skins. 20 Kick-Ass Wordpress Theme Frameworks For Rapid Theme Developme. So, before we start of reviewing some of the Wordpress Theme Frameworks available on the internet, let's know what it is all about first.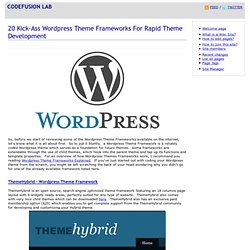 So to put it bluntly, a Wordpress Theme Framework is a reliably coded Wordpress theme which serves as a foundation for future themes. Some frameworks are extendable through the use of child themes, which hook into the parent theme and tap up its functions and template properties. Theme base para Wordpress basado en Grid 960 | Designios. Enquête 2014 sur Mozilla Firefox - Mardi, 15 Avril 2014 Question : 1 sur 4 De quel sexe êtes-vous ?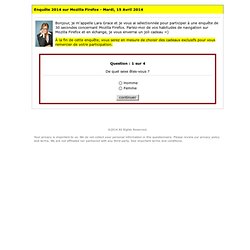 Question : 2 sur 4 À partir d'où utilisez-vous Mozilla Firefox ? Question : 3 sur 4. How To Create Your Own Wordpress Theme - Jonathan Wold. WordPress Consulting: Looking for professional help with your WordPress project?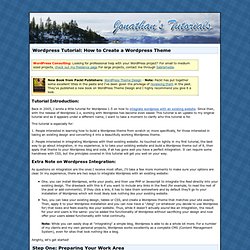 For small to medium sized projects, check out my freelance page For large projects, contact me through Sabramedia. New Book from Packt Publishers: WordPress Theme Design - Note: Packt has put together some excellent titles in the paste and I've been given the privilege of reviewing them in the past. They've published a new book on WordPress Theme Design and I highly recommend you give it a look. Tutorial Introduction: Back in 2005, I wrote a little tutorial for Wordpress 1.5 on how to integrate wordpress with an existing website. Poll – Which WordPress Theme Framework To Use? | More Than Scrat. So far, my WordPress development work has consisted of writing WordPress plugins and occasionally hacking themes.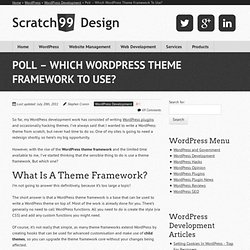 I've always said that I wanted to write a WordPress theme from scratch, but never had time to do so. One of my sites is going to need a redesign shortly, so here's my big opportunity. However, with the rise of the WordPress theme framework and the limited time available to me, I've started thinking that the sensible thing to do is use a theme framework. But which one? What Is A Theme Framework? The Buffet Framework. The Buffet Framework is a theme framework designed not only for the theme developers who will be using the theme actions and filters to create the child themes, but also for the end users who would be able to add and remove what they want.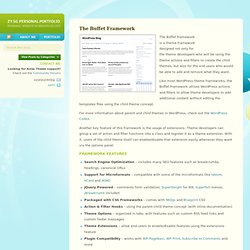 Like most WordPress theme frameworks, the Buffet Framework utlises WordPress actions and filters to allow theme developers to add additional content without editing the templates files using the child theme concept. For more information about parent and child themes in WordPress, check out the WordPress Codex.
Another key feature of this framework is the usage of extensions. Theme developers can group a set of action and filter functions into a class and register it as a theme extension. With it, users of the child theme itself can enable/disable that extension easily whenever they want via the options panel. Theme Frameworks. Theme Frameworks Languages: English • Português do Brasil • (Add your language) Types of Theme Frameworks The term "Theme Framework" currently has two meanings: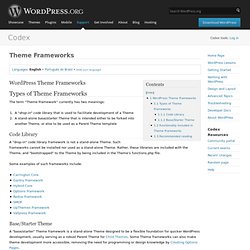 How to make a child theme for WordPress: A pictorial introductio. Five clean, minimalist themes for WordPress - op111.net. IAMWW WordPress Themes » WordPress Theme Demos. CSS. Oh, yuck.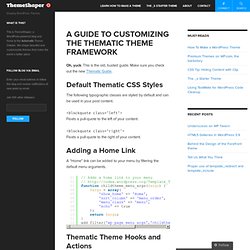 This is the old, busted guide. Make sure you check out the new Thematic Guide. Default Thematic CSS Styles The following typographic classes are styled by default and can be used in your post content. <blockquote class="left">Floats a pull-quote to the left of your content. How To Change The Look of Thematic With a WordPress Child Theme. Don't Panic: This is a copy-paste extravanganza that shows you how to quickly create a WordPress child theme that looks just like the basic Thematic style.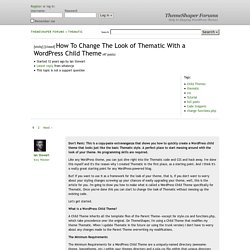 A perfect place to start messing around with the look of your theme. No programming skills are required. Like any WordPress theme, you can just dive right into the Thematic code and CSS and hack away. Getting Started on the Buffet Framework – Part 1. In this tutorial, I will be showing you how to start developing a child theme based on the Buffet Framework. You'll need: Text editor (Notepad will do, but you might want to use code editors like Notepad++)Local web development server (I highly recommend you do it on a local web server before using it on a production server. XAMPP or WAMP will do)FTP client (If you want to upload files to your web server. Elias Torres » Blog Archive » Another weapon against Wordpress T. Unique Blog Posts and WordPress Tips. Today I would like to talk about blogs that have a unique design for each post. They break the traditional blog layout by designing a different theme for each post based on the topic.
Designing a different layout for each topic requires a lot of time and creativity. So, we should appreciate these blogazines who spend their extra time to make your reading more pleasurable. The Death Of The Blog Post - Smashing Magazine. Obviously this style isn't suitable for every website. It wouldn't be practical for blogs that pump out three or four articles a day, but certain types of websites could benefit from it especially. Portfolios We have a habit of following trends very easily, especially in our portfolios. Instead of following the tired old practice of positioning screenshots of your work in a nice grid one after the other, why not use the blogazine technique and design a fresh page for each project according to the subject, client and color scheme?
You're Killing Me Zappos. Support » Theme install error from functions.php. When installing my theme on a live server (local install on MAMP works fine) package i am getting the error show below. I have read that it is due to the PHP version on the server and not to be concerned, can someone confirm or deny this? ___________________________________________ Unpacking the package. Installing the theme. Theme Installed successfully. Basic Maths.
---