CMS
s9y documentation
3 columns :: XOOPS CMS (Content Management System)
FAQ - Installation & Beginner's first steps - Where do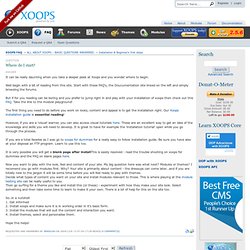 It can be really daunting when you take a deeper peek at Xoops and you wonder where to begin. Well begin with a bit of reading from this site. Start with these FAQ's, the Doucumentation site linked on the left and simply browsing the forums. But if for you reading can be boring and you prefer to jump right in and play with your installation of xoops then check out this FAQ . Take the link to the module playground! The first thing you need to do before you work on looks, content and appeal is to get the installation right.
Tiki Wiki CMS Groupware is a full-featured, web-based, multilingual (40+ languages), tightly integrated, all-in-one Wiki+CMS+Groupware, Free and Open Source Software (GNU/LGPL), using PHP, MySQL, Zend Framework, jQuery and Smarty. Tiki can be used to create all kinds of Web applications, sites, portals, knowledge base, intranets, and extranets. It is actively developed by a very large international community.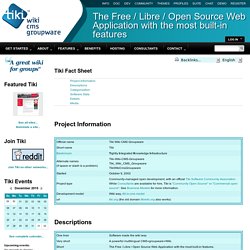 Fact Sheet : Welcome to TikiWiki CMS/Groupware
2/3 Bedroom on horse farm
+ FREE UTILITIES!!! Incl Washer/Dryer in Unit!
washington, DC apts/housing for rent classifieds
6-mo. Lease, Walk to Restaurants & Bars, + FREE STUFF, no deposi
All Utilities Included! 5 Mins to Vienna Metro! 1, 2, 3 BD & Den
washington, DC apts/housing for rent classifieds "fairfax" - cra
Available ASAP!!! ALL UTILITIES INCULDED! Washer/Dryer!
LUXURY 1 BEDROOM 1 BATH AVAILABLE ASAP W/ $17 RENT UNTIL 4/16/20
Call For SPRING SPECIAL ASAP MOVE IN
washington, DC apts/housing for rent classifieds "ASAP" - craigs
AVAILABLE NOW! Ground Floor and $750 in Free Rent!
washington, DC apts/housing for rent classifieds "now" - craigsl
*****huge one bedrooms****
Huge w/Closets Galore! New Cpt! Walk To 500 Stores! No Gas/Elec
Looking for a CMS like Cushy CMS - SitePoint Forums
Sometimes you do just have to pay to play and free isn't always the best option. The problem with CushyCMS is that you don't get anywhere near enough bang for you buck. You should try out PageLime (pagelime.com). It is really fantastic. It has a similiar archetecture integration as CushyCMS, and still has the off site issue, you get a much more professional and presentable interface, as well as image and page management, and administration options. I've been using it for about 2 months and my clients absolutely love it.
Really simple and free hosted CMS - SnappySnippets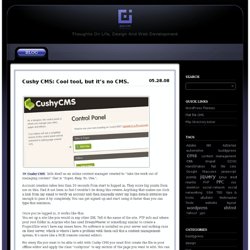 Cushy CMS bills itself as an online content manager created to "take the work out of managing content" that is "Super. Easy. To. Use.". Account creation takes less than 30 seconds from start to logged in.
Cushy CMS: Cool tool, but it's no CMS. Greg-J.com
Accessing / Incorporating Microsoft ASP .NET 2.0 pages from /int
Contribute Developer Center
Allow users of different skill levels to work on a dynamic site
Adobe Products Top destinations Education Adobe Creative Cloud Design and photography
Design Center - CS3 Adobe Video Workshop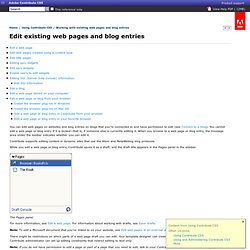 Contribute CS5 * Edit existing web pages and blog entries
You can use Contribute plug-ins to open your web pages and blog entries for editing in Contribute directly from your web browser. You can also directly edit a web page or blog entry within the web browser without opening Contribute. The web page will follow the workflow assigned to its template after the editing is complete. Unlike the Contribute application, the in-browser editor opens in the edit mode only.