How To's
Get flash to fully experience Pearltrees
(Credit: Barnes & Noble) Many Kindle and Nook owners will agree: having an e-reader makes you read more. The problem is that e-books aren't cheap--in fact, they don't cost much less than their hard-copy counterparts. Luckily, the Internet is pretty good at making otherwise expensive things free. We scoured the Web and found a few different options for finding free e-books for your Kindle or Nook. 1. Search for "0.00."
(Credit: Screenshot by Matt Elliott) You use Firefox (or another browser) to view photos on Facebook, Picasa, and other photo-sharing sites, and with Slide Show Viewer, a Firefox extension, Windows users can use Firefox to view slideshows of the photos stored on their hard drive. After installing the add-on (you can download it here ), you'll find it located in the tools menu. You can find the tools menu by going to Option and clicking Menu Bar to show that toolbar. Then from Tools in the menu bar you'll see Slide Show Viewer listed. (You can also add an icon for Slide Show Viewer to the menu bar by following this path View > Toolbars > Customize and then dragging it from the list to the menu bar.)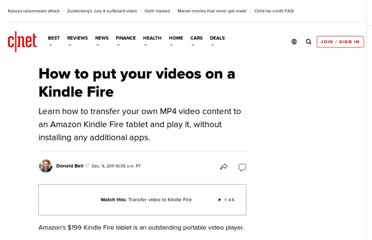 Transfer video to Kindle Fire Amazon's $199 Kindle Fire tablet is an outstanding portable video player. With it, you can purchase movies and TV shows from Amazon's video store, stream movies from Netflix, and dig through a trove of free movie and TV content during your one-month trial membership to Amazon Prime. But what about loading up your own movies and playing them even when there's no Internet connection to be found? Well, it's easier than you think, but the process does seem to throw people--especially if you're new to Android . In this CNET How To, I show you how to make your videos compatible with the Kindle Fire , how to transfer them, and where to locate them once they're on your tablet (hint: they're not in the Video menu).
Google Docs has the ability to add stock images to enhance the creative feel of your documents. If you're planning to design a flier for an event, creating classroom materials, or just want to add an image to a document you're writing, here are the steps to make it happen: Step 1: Open a Web browser to your Google Docs account. (Credit: Screenshot by Nicole Cozma)
Browser tabs are a wonderful thing. (Credit: Screenshot by Ed Rhee) Browser tabs are a wonderful convenience that allow you to browse the Internet without cluttering up your desktop. Another great, but often overlooked convenience, is being able to bookmark all open tabs at the same time. Maybe you've been researching something on the Internet for hours and have several tabs open, but need to stop for the day.
When watching a YouTube video, you sometimes want to get just the audio, because you liked the song or because you did not like the video. Whatever the reason, people want to download or somehow get only the audio track and not the entire video. You know that there are plenty of softwares and web apps out there, which can download YouTube videos for you. However, today we'll be telling you how to convert YouTube videos to MP3 using some free online tools. There are plenty of tools to perform this task too, but not all work 100 percent, some just trick you in to downloading something else entirely and you're left with nothing.
If you want to spread the word far and wide, Tumblr is a great resource. If you want to send content from one blog to another, though, Tumblr isn't so great, as they recently turned off RSS importing. You can circumvent that restriction with TumblRSS as long as you're willing to set up a Webapp and restrain yourself from posting more than 100 items per day.
9 Powerful Free Infographic Tools To Create Your Own Infographics A Do-It-Yourself Guide to Infographics Infographics are everywhere, and we can't get enough of them! By presenting information in a compact and creative format, infographics are able to quickly convey knowledge and engage its viewers.
by Michael Aulia on 23 June, 2010 93 Flares Twitter 4 Facebook 15 Google+ 2 StumbleUpon 71 Reddit 0 93 Flares × I published a post on how to have a Gmail signature with images last year and it was quite a hit, receiving multiple good feedbacks. Little that you know, I actually use a much easier way to have a Gmail signature image, using WiseStamp (there is an extension for Firefox, Chrome, Flock, and Thunderbird at the moment).