General Search Sites
Journal of Industrial Ecology. Journal of Industrial Ecology authors Manfred Lenzen, Joy Murray, and Christopher Dey win prestigious Eureka Prize.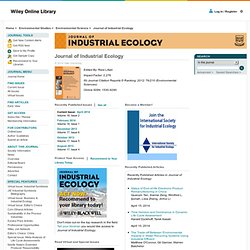 Read the award-winning articles below: Using Input-Output Analysis to Measure the Environmental Pressure of Consumption at Different Spatial LevelsJesper Munksgaard, Mette Wier, Manfred Lenzen and Christopher Dey Volume 9, Issue 1-2. Proceedings of the National Academy of Sciences. Royal Society Publishing. Journal home : Nature. CiteSeerX. Scirus - for scientific information. Electronic Library. SpringerLink. PLoS ONE.
---