General Search Sites
Journal of Industrial Ecology authors Manfred Lenzen, Joy Murray, and Christopher Dey win prestigious Eureka Prize. Read the award-winning articles below: Using Input-Output Analysis to Measure the Environmental Pressure of Consumption at Different Spatial LevelsJesper Munksgaard, Mette Wier, Manfred Lenzen and Christopher Dey Volume 9, Issue 1-2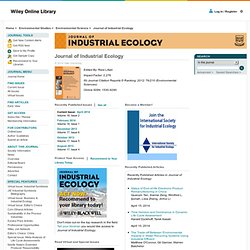 Journal of Industrial Ecology
Microbial methane and the end-Permian extinction A study finds that the catastrophic end-Permian extinction event may have been related to the evolution of a new microbial mechanism to convert organic carbon to methane, an ability catalyzed by an abundance of nickel resulting from Siberian volcanism. Oxytocin might enhance group-serving lying In an experiment where participants could benefit their group by lying, 60 participants who received oxytocin lied to a greater extent and more readily than 60 participants who did not, but when lying benefitted only the individual, those who received oxytocin did not lie any more than those who did not receive oxytocin, suggesting that oxytocin might influence people to act in the best interest of their group, even if the actions include dishonesty, according to a study.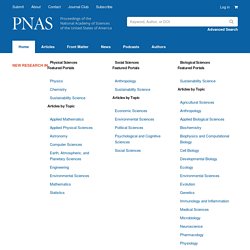 Royal Society Publishing
Star birth sparked at the Galaxy's edge Nidever, et al., NRAO/AUI/NSF and Mellinger, Leiden-Argentine-Bonn Survey, Parkes Observatory, Westerbork Observatory, Arecibo Observatory. Gas from another galaxy is hitting our own, triggering the birth of bright new stars and adding fresh luster to the Milky Way. An article by Scientific American.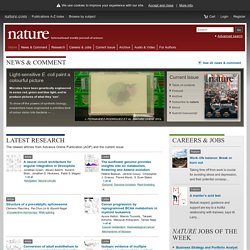 Scirus - for scientific information
PLoS ONE