Network Utilities & Tools
Lookup IP address to Country, State, City, Netblock, Longitude and Latitude. 0 item selected View Cart | Checkout IP2Location Databases IP2Location™ IP Address Demo.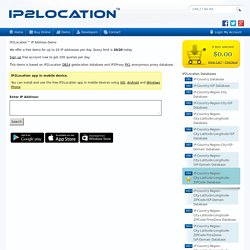 DNSstuff. Reverse IP Lookup - Find Other Web Sites Hosted on a Web Server. Internet Health Report. CentralOps | Free online network utilities. Network-Tools | Traceroute, Ping, Domain Name Server (DNS) Lookup, WHOIS. PageWash | Clean & Safe Web Surfing. HostTracker | Website Uptime Monitoring Service. Down for everyone or just me? InternetSupervision | Website Monitoring Services. InterNIC | The Internet's Network Information Center. MxToolbox | MX Lookup Tool, Check your DNS MX Records.
---