Network Utilities & Tools
Lookup IP address to Country, State, City, Netblock, Longitude and Latitude
DNSstuff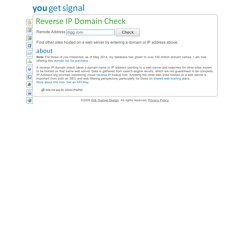 Find other sites hosted on a web server by entering a domain or IP address above. Note: For those of you interested, as of August 2012, my database has grown to over 60 million domain names. I am now offering this domain list for purchase. A reverse IP domain check takes a domain name or IP address pointing to a web server and searches for other sites known to be hosted on that same web server.
Reverse IP Lookup - Find Other Web Sites Hosted on a Web Server
Internet Health Report
CentralOps | Free online network utilities
Network-Tools | Traceroute, Ping, Domain Name Server (DNS) Lookup, WHOIS
PageWash | Clean & Safe Web Surfing
HostTracker | Website Uptime Monitoring Service
Down for everyone or just me?
InternetSupervision | Website Monitoring Services
Internet Availability HTML: Web Server Monitoring FTP: File Transfer Protocol SMTP: Outgoing Email Server POP3: Email Server Website Performance Website integrity supervision Website forms monitoring E-commerce integrity supervision Website Content Monitoring Web pages content change Cyber attack monitoring Notification Options Live-Operator (Voice) SMS (cellular phone) Unlimited Email AdSupervision™ Online Advertiser Solutions Works with Google Adwords and 7Search.com Pausing PPC advertising campaigns when site goes down Reactivating paused campaigns when site recovers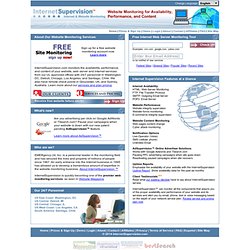 InterNIC | The Internet's Network Information Center
MxToolbox | MX Lookup Tool, Check your DNS MX Records