The Big Shift
The living room PC is here: the iPad — Apple News, Tips and Reviews
Amex Invests $100 Million In Its Future: Digital Ecosystem, Not The Plastic Card
In its press release today American Express revealed explicitly that its new $100 million Digital Commerce Investment Initiative was destined to fund "early stage startups to facilitate the company's digital transformation." If that sounds like a firm that's aware it's got to rapidly pivot, that's because that's exactly what's going on. Amex's Dan Schulman, Group President Enterprise Growth, spoke to Fast Company to explain the move: As far as saying that the credit card is going to evolve, Schulman noted, "It goes even further than that. Our view of the world is that all of commerce is being redefined as the world moves somewhat rapidly into the advent of smartphones and mobile payments and the digitization of information across the entire commerce lifecycle."
5 points to consider for taking your app global
Global reach: a concept essentially unheard of for entrepreneurs before the digital age. Today, not only is global reach a reality, it is the only realistic way to maximize revenue. And there is no hotter digital commodity that smartphone apps which are growing in demand, on a global scale, at the same pace as smartphones. This is a historic moment for any developer to truly go global with their product. App downloads are soaring across the globe and consumers have unprecedented access to information at their fingertips.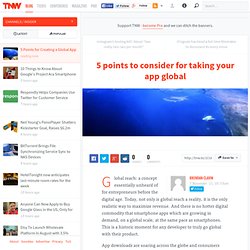 Meaningful Brands Infographic : Havas Media
Facebook Brand Exec: RIP Traditional Marketing
When Facebook's brand experience manager Paul Adams took the stage today at the Geo Loco conference, he outlined one of the most-hyped scenarios for local advertising. Imagine walking down the street, he said, and every time you get close to a store, they can push an offer or marketing message onto your phone. "It's a really stupid idea," Adams said. So why are businesses and marketers enamored with it? Adams said it's because they aren't thinking from "a people perspetive." Of course businesses like to push advertising to potential customers who are nearby.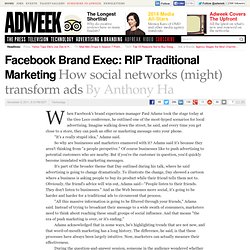 YouTube Tees Up Big Talent
The Rise of the Connected Customer and the New Era of Relevance Brian Solis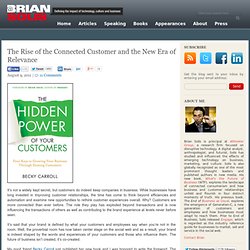 It's not a widely kept secret, but customers do indeed keep companies in business. While businesses have long invested in improving customer relationships, the time has come to think beyond efficiencies and automation and examine new opportunities to rethink customer experiences overall. Why? Customers are more connected than ever before.
Mobile Trends - June 2011 - Trending The Future
Next Generation Media Quarterly October 2011
Millennials — that is, American consumers between ages 18 and 34 — are a mobile generation. That much is clear from the infographic below. According to data collected by location-based ad network JiWire, Millennials own an average of 2.4 Internet-connected devices.
How the Millennial Generation Uses Mobile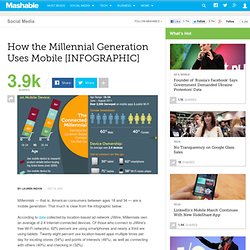 Our Digital Society in the Next 30 Years: An Interview with John Battelle Brian Solis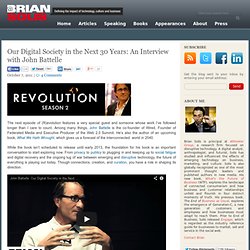 The next episode of (R)evolution features a very special guest and someone whose work I've followed longer than I care to count. Among many things, John Battelle is the co-founder of Wired, Founder of Federated Media and Executive Producer of the Web 2.0 Summit. He's also the author of an upcoming book, What We Hath Wrought , which gives us a forecast of the interconnected world in 2040. While the book isn't scheduled to release until early 2013, the foundation for his book is an important conversation to start exploring now. From privacy to publicy to plugging in and keeping up to social fatigue and digital recovery and the ongoing tug of war between emerging and disruptive technology, the future of everything is playing out today.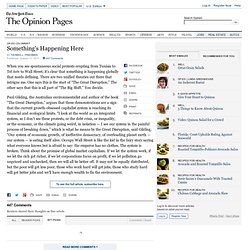 Paul Gilding, the Australian environmentalist and author of the book "The Great Disruption," argues that these demonstrations are a sign that the current growth-obsessed capitalist system is reaching its financial and ecological limits. "I look at the world as an integrated system, so I don't see these protests, or the debt crisis, or inequality, or the economy, or the climate going weird, in isolation — I see our system in the painful process of breaking down," which is what he means by the Great Disruption, said Gilding. "Our system of economic growth, of ineffective democracy, of overloading planet earth — our system — is eating itself alive.
There's Something Happening Here
eBay says that its PayPal division expects to hit $4.7 billion in total payment volume (TPV) of digital goods in 2011. The projection, announced at eBay's X.commerce Innovate developers conference, would be a significant increase in transactions for digital goods — up 28% from 2010, when digital goods accounted for a TPV of $3.4 billion. PayPal defines digital goods as the "direct or indirect payment of any digital asset."
$4.7 Billion in Digital Goods Will Pass Through PayPal This Year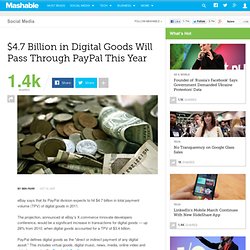 by James Allworth | 1:47 PM October 13, 2011 The initial reaction to the iPhone 4S was cooler than Apple might have hoped . Expectations had been hyped to such a point that people were looking for a leap forward equivalent to the first iPhone. When they couldn't immediately see it, many were disappointed. But that leap was there — it's just not one that is easily seen. Siri, the new iPhone's voice-control software , is going to have as big an impact as that first iPhone did.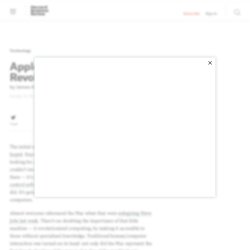 Apple's Siri Is as Revolutionary as the Mac - James Allworth
Internet of things will have 24 billion devices by 2020 — Cloud Computing News