Marketing
Seven Ways to Advertise on Facebook. Harry Gold | August 19, 2008 | 4 Comments inShare0 A media planner's guide to paid advertising opportunities on the social media network.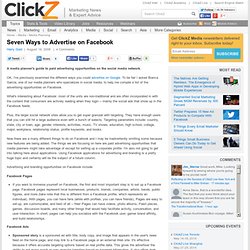 OK, I've previously examined the different ways you could advertise on Google. To be fair I asked Bianca Garcia, one of our media planners who specializes in social media, to help me compile a list of the advertising opportunities on Facebook. 8 Ways to Maximize Your YouTube Marketing Results. Are you on YouTube?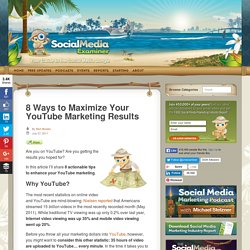 Are you getting the results you hoped for? In this article I'll share 8 actionable tips to enhance your YouTube marketing. Why YouTube? The most recent statistics on online video and YouTube are mind-blowing: Nielsen reported that Americans streamed 15 billion videos in the most recently recorded month (May 2011). 7.2% Of Mall Stores Display A QR Code | QReative Media Solutions. Dec23 Nellymoser have concluded an interesting study on the use of QR Codes in retail stores.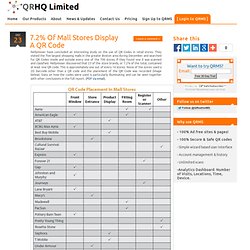 They visited the five largest shopping malls in the greater Boston area during December and searched for QR Codes inside and outside every one of the 700 stores. If they found one it was scanned and classified. Nellymoser discovered that 23 of the store brands, or 7.2% of the total, contained at least one QR code. ஜிமெயிலில் கூகுள் ப்ளஸ் வசதிகள் | ப்ளாக்கர் நண்பன் கூகுள் ப்ளஸ் தொடங்கியதிலிருந்து பல்வேறு மாற்றங்களை வரிசையாக அறிமுகப்படுத்தி வருகிறது கூகுள் தளம்.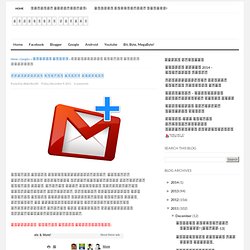 மேலும் தனது தளங்கள் அனைத்தையும் ஒன்றிணைத்து வருகிறது. ஏற்கனவே ஜிமெயிலில் சில கூகுள் ப்ளஸ் வசதிகளை அளித்துள்ள கூகுள் தளம், தற்போது பல பயனாளர்களிடம் கருத்துக்களைக் கேட்டறிந்து மேலும் சில வசதிகளை ஜிமெயிலில் அறிமுகப்படுத்தியுள்ளது. மெயிலில் கூகுள் ப்ளஸ் பகிர்தல்கள்: கூகிள் ப்ளஸ் தளத்தில் உள்ளவர்கள் யாராவது நமக்கு மெயில் அனுப்பினால், அந்த மெயிலில் வலதுபுறம், கடைசியாக அவர் கூகுள் ப்ளஸ்ஸில் பகிர்ந்ததைக் காட்டும்.
Logos and icons. House, Garden & Pets. London Web Design | Award Winning Web Design | Cyber-Duck. Getting More Out of Google. Teknophilia love of technology Getting More Out of Google.
Tips for Successful Social Media Integration. While much has been written about the many different ways to effectively float your message and brand across the social media space, little is being offered about the functionality of design in social media integration.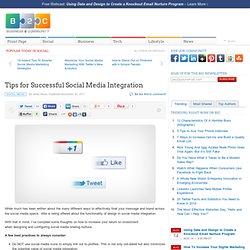 With that in mind, I've compiled some thoughts on how to increase your return on investment when designing and configuring social media sharing buttons. A few best practices to always consider: Do NOT use social media icons to simply link out to profiles. SEO Quality Score. There has been a lot of talk in 2011 about the changes at Google, which we all refer to as Panda.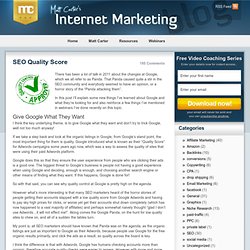 That Panda caused quite a stir in the SEO community and everybody seemed to have an opinion, or a horror story of the "Panda attacking them". In this post I'll explain some new things I've learned about Google and what they're looking for and also reinforce a few things I've mentioned in webinars I've done recently on this topic. Give Google What They Want I think the key underlying theme, is to give Google what they want and don't try to trick Google, well not too much anyway! If we take a step back and look at the organic listings in Google, from Google's stand point, the most important thing for them is quality. TEDxManhattanBeach - Thomas Suarez - iPhone Application Developer... and 6th Grader.
Good for matirials
On Face Book. Steps that can help you increase your websites traffic | aceinternetmarketing.net. Recovered alge4. Via FaceBook. Google+ isn't a social network: it's a web spider hungry for your data. So if Google+ is not about "getting people together on one site and calling it a social network", as Arora says, what is it then?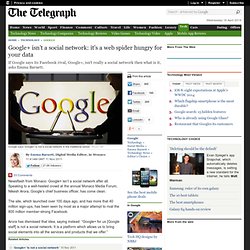 One delegate at the glamourous conference told me she felt disconcerted after hearing Arora's admission. "Basically what he [Arora] has just admitted is that Google+ is just a big spider, which links all of the company's products together for the first time, encouraging people to have a Google web profile, which will supply it with an incredible amount of personal data. This is a far reaching spider too. It makes me uncomfortable to share so much information across the open web, via the many Google products." Seo Idea: Just How Do Search Engines Select Page-One Sites? | Vancouver Internet Marketing Agency.
You may be wondering how search engines arrange the top pages from millions of others.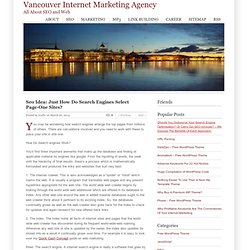 There are calculations involved and you need to work with these to place your site in site one. How Do Search engines Work? Landing a Job At Google: Matthew Epstein's Journey. InShare92 With the remainder of his savings account, armed only with a mustache and online marketing savvy, one man set forth on an epic quest to land a job at Google.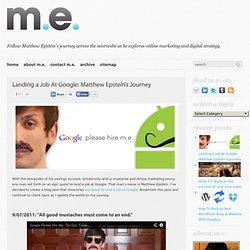 That man's name is Matthew Epstein. I've decided to create a blog post that chronicles my quest to land a job at Google. Bookmark this post and continue to check back as I update the world on my journey.
---
sshanuk Mar 9 2012

OK Sandra

AVAN Systems is an IT services firm that knows how to create revenue for your company using state of the art technology and top notch professionals. Together with our professional web designs, and market standard IT services, we will be able to give your company a boost.
Special offer ...

A full five page website is currently on offer for £495. With this offer we are throwing away 2 years hosting, free domin on yourname with email and more...) Nowadays, when there is a deal which is too good to be true, it almost always is, but the reason AVAN Systems is offering such a deal is that many firms are reluctant to enter into the world of the internet.
---