Foreign
The first lime. Deer Circus Blog. Princess Corner. OH SO PRETTY the DIARIES. Rockstar diaries. Tasteslikelove. Awkward Girls. Oh So Lovely. SWEET SOMETHING. Jessica chronicled. Paper crowns. This little port. Deer in a Bottle. The Chevron Rose. Shy Scout. Miss Kait Online. Carly Kmyta. One of the weirdest things with pregnancy, for me, has been the way my brain seems to melt days into other days.
Everyone always says the last month or two are the longest, and I swear they just keep going faster and faster. On Saturday, I'll be 34 weeks, and I honestly don't know how time has gone this fast. Plus, I feel really awesome. In fact, I feel 10 million times better than I ever did at the beginning. Before I was dreading the thought of having x amount of months left, I was dreading the thought of gaining more weight, and I was horrified at the thought of swelling up like a puffer fish. It's Me, KP. Adventures of Newlyweds. A Momma's Desires and Pacifiers. SPONSOR. Welcome and thank you for you interest in sponsoring Style Antics!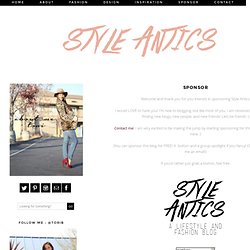 I would LOVE to have you! I'm new to blogging, but like most of you, I am obsessed! So shay. Sabrina Says. Choose to be Happy. Shine or set. Fancy Treehouse. Calico Skies. Mr. Taylor and his Lady. Let's meet mommy of the hour, ms. jenna. honestly, she gives fashion posts, tutorials, and even recipes with one cute baby one her hip. and don't get me started on her gorgeous red hair. i just love the gingers guys. probably because everyone in my family rocks the unique color. you own it girl!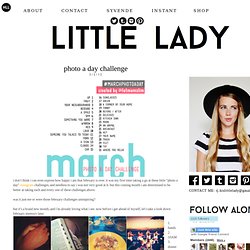 ::winks::so before heading over to her lovely site, look through this little q & a session and see why i have dubbed her the modern day "wonder woman"! 1. What are five words to describe your personality? Crazy, Loud, Funny, Sarcastic, Real. A Beautiful Mess. Hey, friends!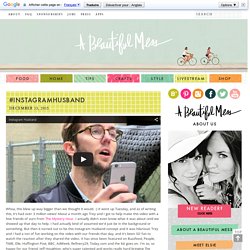 I'm here to share my new favorite happy hour recipe! It's fresh, herbal-y, and citrus-y. The little brunette mermaid. In Spaces Between | awesome blogs. Blogs to Bookmark 23 July, 2013 Hola!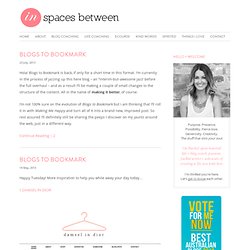 Blogs to Bookmark is back, if only for a short time in this format. I'm currently in the process of jazzing up this here blog – an "interim-but-awesome jazz' before the full overhaul – and as a result I'll be making a couple of small changes to the structure of the content. Elise Blaha :: enJOY it. L had the pleasure of spending four days on the Oregon Coast this past week, wearing my collection of humongous scarves and teaching at the Your Story Retreat.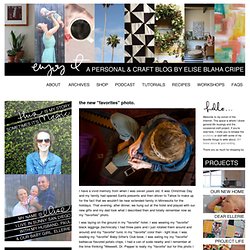 I said this to the women attending at the very beginning and I say it again here: my job, while awesome, can be very isolating. It's just me and my computer and sometimes it feels like with all the online connection available, it's difficult to connect in real life. I do not seek out opportunities to make friends often or give myself time to really dig deeper below the surface.
And in some ways, that (digging deeper) is what this retreat was about. The Glam Lamb | Chic Style + Affordable Luxuries. It's Me, KP: Stencil Hop. Welcome to the Stencil Hop!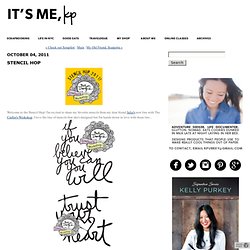 I'm excited to share my favorite stencils from my dear friend Julie's new line with The Crafter's Workshop. I love the line of stencils that she's designed but I'm hands down in love with these two... They come in both 12x12 and 6x6 and are available right now at Simon Says Stamp! Here's what I did with the stencils... I really like the 6x6 size because they work for 12x12 or 8.5x11 layouts - super versatile. Skunkboy Creatures. Home - Creature Comforts - daily inspiration, style, diy projects + freebies. Runningonhappiness.blogspot.com. To Be Charmed. With Love Diana. Scathingly Brilliant. Something for the weekend.
---