YouTube Channels
AbletonInc's Channel. Ableton profiled Pantha du Prince and The Bell Laboratory as they prepared to perform Terry Riley's "In C" at London's Barbican Theatre.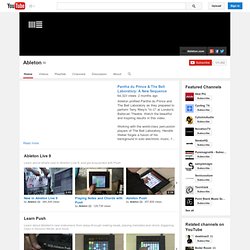 Watch the beautiful and inspiring results in this video. Working with the world-class percussion players of The Bell Laboratory, Hendrik Weber forges a fusion of his background in solo electronic music, his passion for experimental and minimal music, and a desire to collaborate with acoustic musicians. Using Ableton Live for both electronic sounds and processing acoustic percussion, Hendrik and The Bell Laboratory recorded Elements of Light, a collaborative album, and played a series of sold-out shows in respected venues all over the world. DubSpot's Channel. This is an incredible advertisement for Dubspot DJ / Producer Master Program.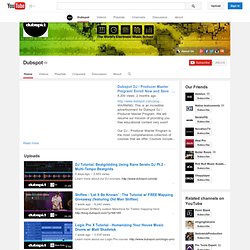 We will resume our mission of providing you free educational content very soon! Our DJ / Producer Master Program is the most comprehensive collection of courses that we offer. Courses included in this program: DJ Extensive, Music Foundations, Ableton Live Producer Certificate Program, Sound Design, and Mixing and Mastering. If you have been thinking about learning the fundamentals of music production, DJing, sound design, mixing and mastering, this complete and extensive program is designed to get your started on your journey of musical discovery.
We are currently in the middle of a Spring Sale. Cosmcosm's Channel. Nicoluminous's Channel. DJVespers's Channel.
---