YouTube Channels
AbletonInc's Channel. Ableton profiled Pantha du Prince and The Bell Laboratory as they prepared to perform Terry Riley's "In C" at London's Barbican Theatre.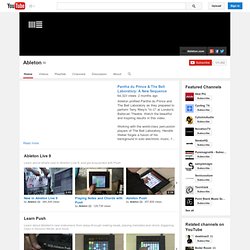 Watch the beautiful and inspiring results in this video. Working with the world-class percussion players of The Bell Laboratory, Hendrik Weber forges a fusion of his background in solo electronic music, his passion for experimental and minimal music, and a desire to collaborate with acoustic musicians. Using Ableton Live for both electronic sounds and processing acoustic percussion, Hendrik and The Bell Laboratory recorded Elements of Light, a collaborative album, and played a series of sold-out shows in respected venues all over the world. DubSpot's Channel. More info: Over the past few years, Dubspot has grown from a single classroom in New York City's West Village to a global institute, attracting students from all around the world.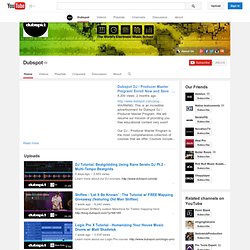 This rapid growth has led us to expand our course offering from Dubspot Online and build a whole new floor in our New York facility with four state of the art classrooms. Each room is acoustically treated and equipped with the latest music technology for music production, sound design, mixing, software - based mastering and electronic music performance. Classes are kept intimate so that each student can work with our instructors to find and sculpt his/her own sound.
We are very proud of our new classrooms and hope you will come explore them for yourself. Cosmcosm's Channel. Nicoluminous's Channel. Welcome to YouTube!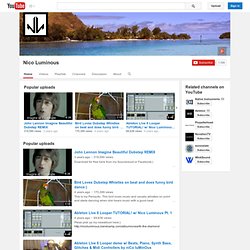 The location filter shows you popular videos from the selected country or region on lists like Most Viewed and in search results.To change your location filter, please use the links in the footer at the bottom of the page. Click "OK" to accept this setting, or click "Cancel" to set your location filter to "Worldwide". DJVespers's Channel.
---