Estudios Empresas
Fundación Bankinter Innovación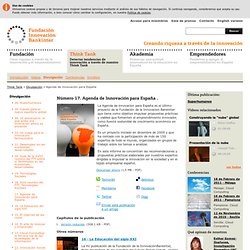 La Agenda de innovacion para España es el último proyecto de la Fundación de la Innovacion Bankinter que tiene como objetivo impulsar propuestas prácticas y viables que fomenten el emprendimiento innovador, como fuente sostenible de crecimiento económico en España.
Publicaciones | Fundación Bankinter Innovación
ResumenejecutivoBankinterNuevosconsumidores
_FTF_Internet_de_las_Cosas_2011
Informe Anual 2010 (Edicion 2011)
informeeconomicoenero2012.pdf (Objet application/pdf)
November 18, 2011 Forum d'Avignon Summary Internet-connected televisions, consoles, over-the-top (OTT) boxes and tablets could be present in 60 percent of households by 2014, according to a survey conducted by Bain & Company, adding a new chapter in the "permanent revolution" that is shaping the media, entertainment and cultural landscapes.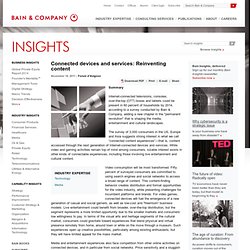 Media
The evolution of cloud computing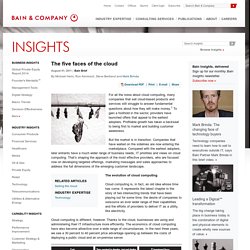 The five faces of the cloud
Capital Raising Guide, Capital Raising Strategy & Venture Capital Directory
Informes_GetFile
madri+d. Vigilancia Tecnológica de las Tecnologías de la Información y Comunicaciones. INFORME VT 2008: GREEN IT, TECNOLOGÍAS PARA LA EFICIENCIA ENERGÉTICA EN LOS SISTEMAS TI
BBVA Research
Cost benefit analysis - Free PDF Ebook Search & Download
Informática profesional
Encuentro de Webs de Alto Trafico | Networking Activo
Celebramos los Encuentros de Webs de Alto Tráfico de Networking Activo con el objetivo de reunir a un selecto grupo de gestores y responsables de Webs y Redes de portales online.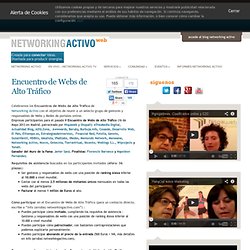 Cross-selling is a key issue for financial companies, since the more accounts per customer they have, the higher the loyalty indicator rises. You are going to see how to find the best product to recommend to each customer through the most effective channel in just five minutes, with Quiterian Analytics.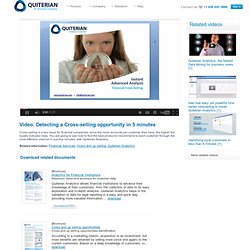 Detecting a Cross-selling opportunity in 5 minutes
Documentación online - www.unit4.es
Memoria de Sostenibilidad 2010 - TECNOCOM
megacities-whitepaper.pdf (Objet application/pdf)
unnamed pearl
ICEX >> Estudios de mercado y otros documentos
Institute for Competitive Intelligence - institute-for-competitive-intelligence.com
IBM : Cross Channel Campaign Management - IBM Training - Espana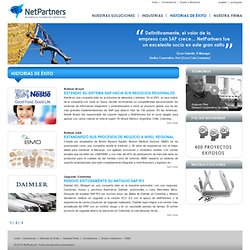 Inicio | Contáctenos | Únete a Nosotros english | português ERP Reliable Upgrade Impeccable BI Compass Rollout Adaptive AMS Flex ALM Clever
Historias de Éxito - NetPartners
Consulting and Research: Telecoms, Internet, Media IDATE - Contact
Redes & Telecom: Información y noticias sobre el mercado de telecomunicaciones, redes y networking.
Emory University | Goizueta Business School | MBA, BBA, PhD Programs
Business School - The ESADE MBA
ESADE Law & Business Schools
THE MARKETING IN YOU < Programmi di Formazione Executive < SDA Bocconi
gateway - France - Aberdeen Asset Management
What Is a Business Intelligence Manager?
Business Intelligence, Data Warehouse, CRM y mucho mas...: Empresas Business Intelligence
En este apartado se reseñan las principales empresas del sector Business Intelligence,ordenadas de forma alfabética.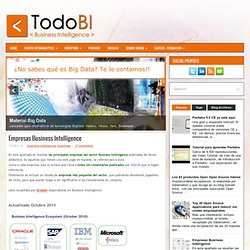 Roberto González, autónomo 2.0: "El talento, las habilidades, las competencias digitales no las enseñan las instituciones educativas tradicionales"
En Internet podemos desarrollar multitud de negocios, ello es ejecutado por profesionales preparados; Roberto González es símbolo de evolución y adaptación hasta el punto de generar escuela. Él se autodefine como "autónomo 2.0″ término bien adaptado a su versatilidad en la red.
Estudio "Radiografía Empresas Edelweiss 2010"