Social Skills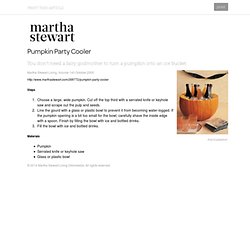 Pumpkin Party Cooler
Photography: Martha Stewart Living, Volume 143 October 2005 http://www.marthastewart.com/268772/pumpkin-party-cooler Steps Choose a large, wide pumpkin.
I loved how my glittery gradient mani turned out so much that I decided to do a variation on it, using the night sky as my inspiration! Here's how I did it: 1. Prep I grabbed deep navy, silver glitter, and gold glitter polish along with my favorite top coat. I also grabbed an orange stick and some nail art rhinestones.
It's because I think too much: Galactic Manicure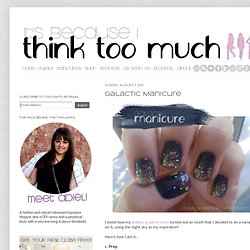 CrackingCreditCode.jpg (JPEG Image, 600x1708 pixels)
When dealing with computer security, an often overlooked security risk is so-called "deleted files". When files are deleted, nothing is actually done to them aside from marking them as "free-space". The OS may get around to overwriting them sometime when it needs the space, but a deleted file could sit on a drive completely intact for weeks of usage (the bigger it is the bigger the chance it will be at least partially overwrited).
Top 10 Secret Agent Security Tips and Tricks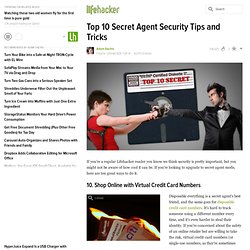 Top ten reasons why you should wear duct tape to the prom by the Duct Tape Guys, authors of The Duct Tape Book(s) 10. Cheaper than renting a tux or gown. 9. Resistant to punch spills. 8. Prom decorations start falling down? Just peel off part of your outfit and repair 'em on the spot. 7.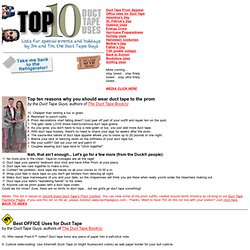 Top Ten Uses for Duct Tape
pipecleaner_dance3.swf (application/x-shockwave-flash Object)
Shower To Go
Turn Google into your own personal (free) Napster
Eight Ways to Spot Emotional Manipulation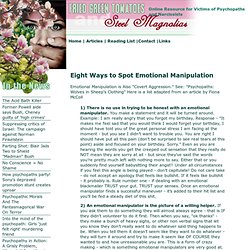 1) There is no use in trying to be honest with an emotional manipulator. You make a statement and it will be turned around. Example: I am really angry that you forgot my birthday. Response - "It makes me feel sad that you would think I would forget your birthday, I should have told you of the great personal stress I am facing at the moment - but you see I didn't want to trouble you.
Caring for a New Tattoo"
Water Marble Tutorial. Supplies: orange stick or...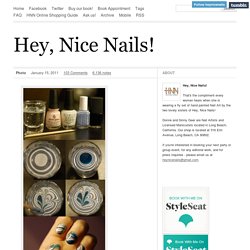 Water Marble Tutorial. Supplies: orange stick or toothpick, shot glass or cup (the smaller the circumference, the less polish you end up wasting), room temp. water, nail polish, tape (optional, but it helps with the clean up) I like to begin by prepping my nails with base coat and one coat of polish. Here I used China Glaze Innocence for a nice neutral base.
Hairstyle Don'ts - Celebrity Hairstyles - Hairstyle Photos
Please Hear What I'm Not Saying
Don't be fooled by me. Don't be fooled by the face I wear. For I wear a mask, a thousand masks, masks that I am afraid to take off, and none of them is me.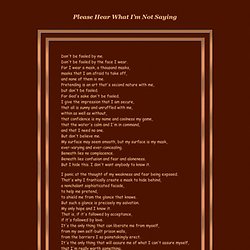 How To Do A Tie
How to repair your shattered eyeshadow. Today I'm going to share something with you, something precious and close to me. It will help you preserve your sanity and hard earned dollars. It might be a little bit of fun for your Monday too, but I don't want to assume things on your behalf.
how to: repair a shattered eyeshadow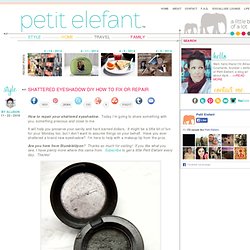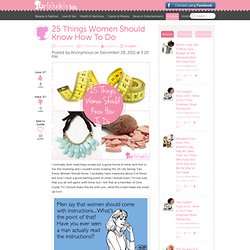 I normally don't read mass emails but a good friend of mine sent this to me this morning and I couldn't resist reading the 25 Life Saving Tips Every Woman Should Know. I probably have mastered about 3 of these but now I have a good starting point of what I should learn. I'm not sure that you all will agree with these but I felt that as a member of Girls Guide To I should share this list with you.
25 Things Women Should Know How To Do