Mind
Life's Instructions. 60 Inconvenient Personal Development Truths. Post written by: Marc Chernoff Email I know you want to be the best you can be.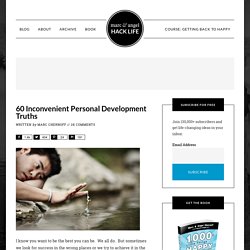 We all do. But sometimes we look for success in the wrong places or we try to achieve it in the wrong ways. Tools for creating ideas. How-To: Easily Remove the Vocals from Most Songs | r3dux.org. How Will I Know I Am Really In Love? Easy 2-Step Lucid Dream Method. Throughout the day, ask yourself if you are dreaming whenever you notice the dot.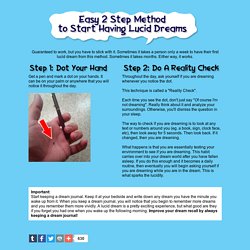 This technique is called a "Reality Check". Each time you see the dot, don't just say "Of course I'm not dreaming". Home DIY. Inspiring Movies » Life-Changing Arts. Before you look at the selected movies, please understand that this is by no means 'the ultimate list of inspiring movies'.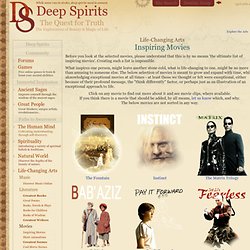 Creating such a list is impossible. What inspires one person, might leave another stone cold, what is life-changing to one, might be no more than amusing to someone else. The below selection of movies is meant to grow and expand with time, while aknowledging exceptional movies at all times - at least those we thought or felt were exceptional, either because of their profound message, the "think differently" factor, or perhaps just as an illustration of an exceptional approach to life.
Click on any movie to find out more about it and see movie clips, where available. If you think there is a movie that should be added, by all means, let us know which, and why. Sweet nothings by ~Bob-Rz on deviantART picture on VisualizeUs. Solitude - Ella Wheeler Wilcox. You Are Tired (I Think) by e.e. cummings by stateofmind_77 on share good poems on 43 Things. You Are Tired (I Think) by e.e. cummings You are tired,(I think)Of the always puzzle of living and doing;And so am I.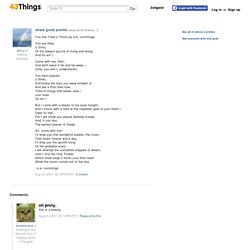 Come with me, then,And we'll leave it far and far away—(Only you and I, understand!) Blue Fairy Book. Ee cummings – i like my body when it is with your body. By PoetryGrrrl on December 31, 2013 i like my body when it is with your body.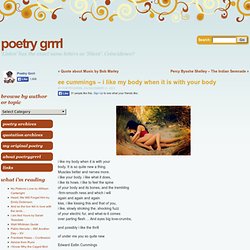 It is so quite new a thing. Muscles better and nerves more. i like your body. i like what it does, i like its hows. i like to feel the spine of your body and its bones, and the trembling -firm-smooth ness and which i will again and again and again kiss, i like kissing this and that of you, i like, slowly stroking the, shocking fuzz of your electric fur, and what-is-it comes over parting flesh ... And eyes big love-crumbs, and possibly i like the thrill. Do not stand at my grave and weep.
Do Not Stand at My Grave and Weep is a poem written in 1932 by Mary Elizabeth Frye.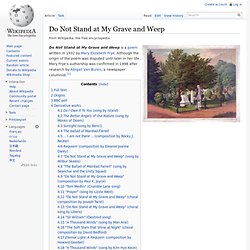 Although the origin of the poem was disputed until later in her life, Mary Frye's authorship was confirmed in 1998 after research by Abigail Van Buren, a newspaper columnist.[1] Full text[edit] Do not stand at my grave and weep, I am not there; I do not sleep. I am a thousand winds that blow, ♥ ♥ Breakups 101- a guide to surviving a break up.
Men, tired of not holding the 'power' in your relationshipsand in your life?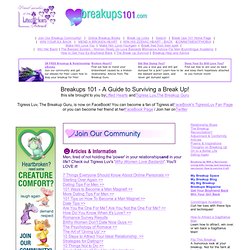 Check out Tigress Luv's 'Why Women Love Bastards'. You'll LOVE it! 7 Things Everyone Should Know About Online Personals >>Starting Over Again >>Dating Tips For Men >>101 Ways to Become a Man Magnet! >>More Dating Tips For Men >>101 Tips on How To Become a Man Magnet >>Date Tips >>Are You the One For Me? Are You Not the One For Me? Periodic Table of Storytelling by *ComputerSherpa on deviantART. YTMND - Blue Ball Machine (Classic GIF Returned) 15 Styles of Distorted Thinking. 47 Mind-Blowing Psychology-Proven Facts You Should Know About Yourself. WHAT YOU ARE ABOUT TO READ IN THE NEXT PARAGRAPH IS COMMONLY BELIEVED, BUT NOT TRUE – You read by recognizing the shapes of words and groups of words.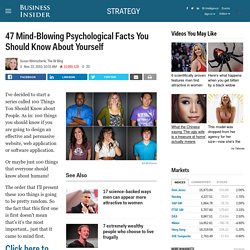 Words that are in all capital letters all have the same shape: a rectangle of a certain size. This makes words displayed in all uppercase harder to read than upper and lower case (known as "mixed case"). Mixed case words are easier to read because they make unique shapes, as demonstrated by the picture below. OK, NOW THE TRUE STUFF STARTS — When I started this article the topic was supposed to be why all capital letters are harder to read.
Personal Development for Smart People - Steve Pavlina. Amazing-Places_24B-552508.jpeg (JPEG Image, 1600x1200 pixels) - Scaled (49%) Automatic Flatterer. 8 Things to Stop Doing Right Now. The main purpose of this site is to help you be who you want to be and live the life you want to live.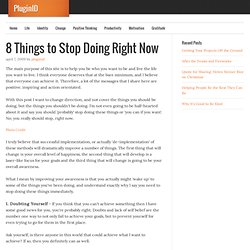 I think everyone deserves that at the bare minimum, and I believe that everyone can achieve it. Therefore, a lot of the messages that I share here are positive, inspiring and action orientated. With this post I want to change direction, and not cover the things you should be doing, but the things you shouldn't be doing. I'm not even going to be half-hearted about it and say you should 'probably' stop doing these things or 'you can if you want'. No; you really should stop, right now. The Dalai Lama's 18 Rules For Living. May 6, 2011 | 42 Comments » | Topics: Life, List At the start of the new millennium the Dalai Lama apparently issued eighteen rules for living.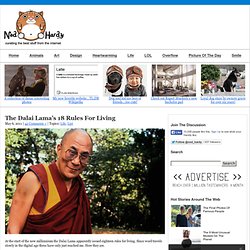 Since word travels slowly in the digital age these have only just reached me. Here they are. Take into account that great love and great achievements involve great risk. When you lose, don't lose the lesson. Robert Muraine. Cozy-Mystery.Com.
---