Great School Library Blogs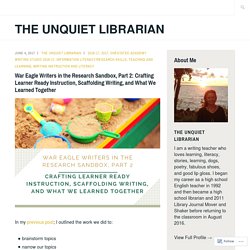 The grand finale to Teen Tech Week 2014 was the first step in a partnership (more details later in this post!) between our media center and our friends from the Gwinnett County Public Library. Training Manager Christopher Baker, Information Technology Director Michael Casey, and Grayson Assistant Branch Manager Steve Thomas joined us for three lunch/guided study periods to introduce 3D printing to our teens.
I was recently inspired by Buffy Hamilton's series of posts about Write Arounds, an activity I'd never heard of that sounded like a concrete way for me to partner with some of our English faculty. What began as a fun experiment bloomed into a bit of a breakthrough for me. Write Arounds are a way of collaboratively reading, annotating, and questioning texts. Students sit at tables covered with butcher paper and read, as a group, a passage from a text they're investigating. They can work together or alone, and can ask questions, take notes, highlight, draw pictures, etc.
sarah ludwig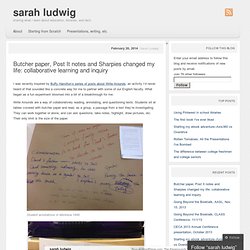 Joyce Valenza-NeverEndingSearch