Social Movements
Aarti Sequeira beef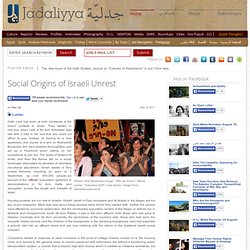 Social Origins of Israeli Unrest
Dafni Leef has been at both bookends of the recent protests in Israel. They started in mid-July, when Leef, a Tel Aviv filmmaker, was met with a hike in her rent that she could not afford to pay. Instead of moving to a new apartment, she moved to a tent on Rothschild Boulevard, the city's sleekest thoroughfare, and set up a Facebook event calling on her compatriots to join her. The spark of dissent hit tinder, and then the flames alit on a social landscape desiccated by decades of relentless neo-liberal adjustment.
Zapatista! Trailer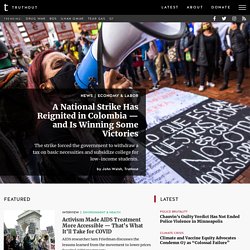 Tens of Thousands Gather in Moscow to Protest | Truthout
Moscow - Tens of thousands of protesters gathered here on Saturday afternoon for a second large antigovernment demonstration, as a wave of new activists struggle to convert an inchoate burst of energy into a durable political force. Organizers hope to build on the success of the Dec. 10 protests, which mobilized a broad collection of previously apolitical middle-class Russians angry over parliamentary elections earlier this month that many rejected as fraudulent and slanted in favor of the ruling party, United Russia. If the movement can sustain its intensity, it could alter the course of presidential elections in March, when Vladimir V. Putin plans to extend his status as the country's dominant figure to 18 years. The crowd began forming more than an hour before the beginning of the protest, for which city authorities granted a permit for up to 50,000 people. Organizers estimated the crowd at 120,000; the police offered a lower estimate of about 29,000.
9/11 Survivors Create Worker Owned Restaurants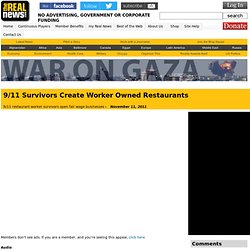 9/11 restaurant worker survivors open fair wage businesses - Transcript VOICEOVER: Among the thousands who perished in the September 11 attacks were 73 mostly immigrant low-wage workers who worked in the upscale restaurant Windows on the World on the top floors of the World Trade Center.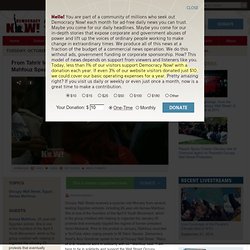 From Tahrir to Wall Street: Egyptian Revolutionary Asmaa Mahfouz Speaks at Occupy Wall Street
This is a rush transcript. Copy may not be in its final form. AMY GOODMAN: A tweet posted just before we went to air said police in riot gear have surrounded Occupy Oakland protest encampment and begun firing flash grenades and rubber bullets into the camp. We're trying to reach someone for further updates. Meanwhile, here in New York, Occupy Wall Street's Liberty Plaza received a surprise visit from several leading Egyptian activists, including 26-year-old Asmaa Mahfouz.