News/Journalism
ProPublica
Jadaliyya
Enemy Apr 11 2014by Liana Badr The truth is I was forced to return to Beirut without knowing if he was still hiding there. Maybe he'll come back.

AJE
Truthdig: Drilling Beneath the Headlines
(Image: Addiction via Shutterstock)Voters and policy makers are slowly moving toward reforms to reduce the harm of skyrocketing numbers of opiate-related overdoses, but in the meantime, many like Truthout Writer Mike Ludwig and friends will share skills that "help us keep each other alive, healthy and safe." Maria pulls out a thick-gauged intramuscular syringe and a vial of naloxone hydrochloride, a drug known commonly by the brand name Narcan. She shows the people gathered around me how to draw up 1 cubic centimeter of naloxone into the syringe. "You want to inject it into fleshy areas, the upper arm muscle, thigh or butt," she says. "If there is not response in a few minutes, try administering one more cc of naloxone.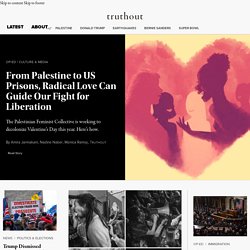 Truthout | Fearless, Independent News and Opinion
A daily TV/radio news program, hosted by Amy Goodman and Juan Gonzalez, airing on over 900 stations, pioneering the largest community media collaboration in the United States.
Reader Supported News
The Real News Network - Independent Video News, Blogs and Editorials
Portside | Welcome to portside!