Globalization
Inside Apple's Hidden Factories. Finally.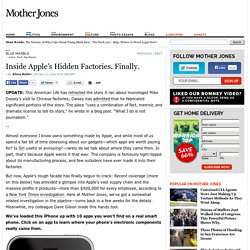 UPDATE: This American Life has retracted the story it ran about monologist Mike Daisey's visit to Chinese factories; Daisey has admitted that he fabricated significant portions of the story. The piece "uses a combination of fact, memoir, and dramatic license to tell its story," he wrote in a blog post. "What I do is not journalism." Almost everyone I know owns something made by Apple, and while most of us spend a fair bit of time obsessing about our gadgets—which apps are worth paying for? Is Siri useful or annoying?
Indian Ocean in World History | A free online educational resource sponsored by the Sultan Qaboos Cultural Center
How US Policies Fueled Mexico's Great Migration
This article was reported in partnership with The Investigative Fund at The Nation Institute and the Puffin Foundation. Some names of the people profiled in this article have been changed. Roberto Ortega tried to make a living slaughtering pigs in Veracruz, Mexico. "In my town, Las Choapas, after I killed a pig, I would cut it up to sell the meat," he recalls. But in the late 1990s, after the North American Free Trade Agreement (NAFTA) opened up Mexican markets to massive pork imports from US companies like Smithfield Foods, Ortega and other small-scale butchers in Mexico were devastated by the drop in prices. "Whatever I could do to make money, I did," Ortega explains.
Intro: "Benjamin Franklin did it. Henry Ford did it. And American life is built on the faith that others can do it, too: rise from humble origins to economic heights. 'Movin' on up,' George Jefferson-style, is not only a sitcom song but a civil religion. But many researchers have reached a conclusion that turns conventional wisdom on its head: Americans enjoy less economic mobility than their peers in Canada and much of Western Europe." By Jason DeParle, The New York Times
Harder for Americans to Rise From Lower Rungs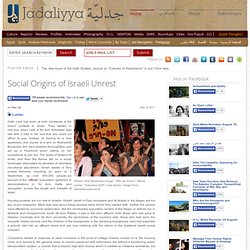 Dafni Leef has been at both bookends of the recent protests in Israel. They started in mid-July, when Leef, a Tel Aviv filmmaker, was met with a hike in her rent that she could not afford to pay. Instead of moving to a new apartment, she moved to a tent on Rothschild Boulevard, the city's sleekest thoroughfare, and set up a Facebook event calling on her compatriots to join her. The spark of dissent hit tinder, and then the flames alit on a social landscape desiccated by decades of relentless neo-liberal adjustment.
Social Origins of Israeli Unrest
Africa Land Grab: New Century, More Colonisers | NewsClick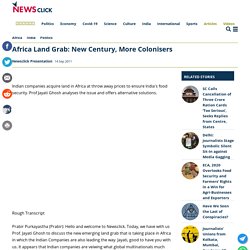 Indian companies acquire land in Africa at throw away prices to ensure India's food security. Prof Jayati Ghosh analyses the issue and offers alternative solutions. Rough Transcript Prabir Purkayastha (Prabir): Hello and welcome to Newsclick. Today, we have with us Prof. Jayati Ghosh to discuss the new emerging land grab that is taking place in Africa in which the Indian Companies are also leading the way.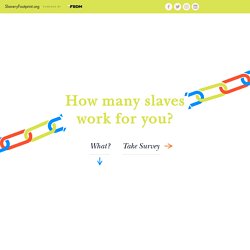 Made in a Free World - A solution for business. Powered by Translate Slavery Footprint Slavery exists...
Infamous Anti-iPhone Game Goes To Android
How many slaves work for you? Probably none directly. But if you take into account the usage of trafficked human beings in the supply chains that provide for the brands that you buy clothes, coffee, electronics and other items from, the number may be more than you think. A new campaign from Slavery Footprint, a non-profit dedicated to ending slavery, and the US State Department's Office to Monitor and Combat Trafficking in Persons is out to open people's eyes to human trafficking, inviting people to calculate their Slavery Footprint. Are you ready to find out how many slaves work for you?
How Many Slaves Work For You? Mobile App Fights Slavery & Human Trafficking
A much-needed holiday, which of course means that I'm running about like a blue-arsed Tory SPAD trying to mop up all the little bits of things I hadn't had time to do for ages. Like some of the legwork on the three books I'm meant to have written and publicised between now and the end of September. I thought I'd drop a quick note about that here, partly to let you all know what's happening, but also because I've got to the stage of sticking my fingers in my ears and humming and pretending it's all not happening, so blogging on it is one way to make sure I actually bloody do it all So. My book Meat Market: Female Flesh Under Capitalism (Zero Books) is out now.
Laurie Penny, "Meat Market"
ger of the Week: Laurie Penny - Truthdigger of the Week
Truthdigger of the Week: Laurie Penny Posted on Nov 25, 2011 Every social movement needs to guard against the inevitable attempts of mainstream media sources to warp its message, defend its targets and recast its members as lazy, crazy or fringy malcontents. Luckily for the Occupy movement, British journalist Laurie Penny is more than capable of taking on, and taking down, the opposition—and that's why she's our Truthdigger of the Week. Credentials aside, it was her total ownership of the situation that unfolded over the course of the BBC Newsnight showdown with anchor Emily Maitlis and former Goldman Sachs partner Richard Sharp that launched her to the top of this week's list of Truthdigger nominees—which, we should mention, included the Egyptian protesters and UC Davis English professor Nathan Brown.
Caring: a labor on stolen time | Black Orchid Collective
This piece is written by a fellow worker. It describes the organizing experiences of a CNA in the nursing home. It recently got posted on Recomposition blog. We want to share it with you. caring: a labor on stolen time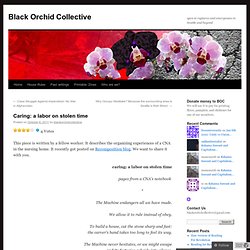 Photo:Jim Hinton, courtesy of Norma Rogers/ Carnegie Hall Archives This Martin Luther King day, why not celebrate by reading one of MLK's last speeches, the one delivered at Carnegie Hall on 23 February 1968 to fête the 100th Anniversary of the birth of W. E. B. DuBois?
Raj Patel - Author
Corporations Hate Regulation, Until They Love It
The "Volcker rule" is a simple thing. Basically, it says that if you're a bank that takes deposits and benefits from federal deposit insurance, you can't also make risky trades that might blow up your bank and cost the taxpayers a bundle. Wall Street never liked the rule, because banks make a lot of their money these days trading for their own accounts and didn't want their trading profits cut off. They fought the idea in Congress, but in the end, the Dodd-Frank bill that passed in 2010 included a version of the Volcker rule in its final draft.
The United States isn't broke; we're the richest country on the planet and a country in which the richest among us are doing exceptionally well. But the truth is, our economy is broken, producing more pollution, greenhouse gasses and garbage than any other country. In these and so many other ways, it just isn't working.
No Logo