Antonio Gramsci
The IGS is a non-profit organization whose aim is to facilitate the communication and exchange of information among the very large number of individuals from around the world who are interested in the life and work of Antonio Gramsci (1891-1937), the Italian socialist, political theorist, and activist. The IGS website includes a biography and chronology of Antonio Gramsci's life, an archive of photographs, documents, and on-line articles related to his life and work, as well as links to his writings. In addition, the IGS website includes academic and authoritative essays and articles on Gramscian studies and concepts related to Antonio Gramsci's work, as well as back issues of the IGS Newsletter. The documentary film "New York and the Mystery of Naples: A Journey through Gramsci's World" is availble for viewing in the Audio and Video section of this site. Membership to the International Gramsci Society is available on-line.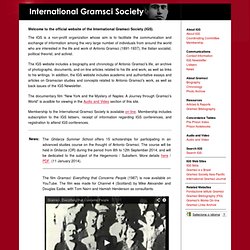 Selections from the Prison Notebooks (9780717803972): Antonio Gramsci, Quintin Hoare, Geoffrey Nowell Smith
Antonio Gramsci (1891-1937) is widely celebrated as the most original political thinker in Western Marxism and an all-around outstanding intellectual figure. Arrested and imprisoned by the Italian Fascist regime in 1926, Gramsci died before fully regaining his freedom. Nevertheless, in his prison notebooks, he recorded thousands of brilliant reflections on an extraordinary range of subjects, establishing an enduring intellectual legacy. Columbia University Press's multivolume Prison Notebooks is the only complete critical edition of Antonio Gramsci's seminal writings in English. The notebooks' integral text gives readers direct access not only to Gramsci's influential ideas but also to the intellectual workshop where those ideas were forged. Extensive notes guide readers through Gramsci's extraordinary series of reflections on an encyclopedic range of topics.
Prison Notebooks - Antonio Gramsci, Joseph A. Buttigieg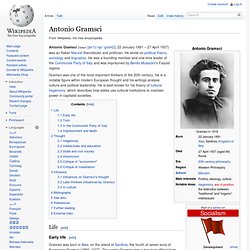 Antonio Gramsci (Italian: [anˈtɔːnjo ˈɡramʃi]; 22 January 1891 – 27 April 1937) was an Italian Marxist theoretician and politician. He wrote on political theory, sociology and linguistics. He was a founding member and one-time leader of the Communist Party of Italy and was imprisoned by Benito Mussolini's Fascist regime.
Antonio Gramsci