UX/UI repository(design patterns and templates)
User Interface Patterns for Dealing with Interactive Content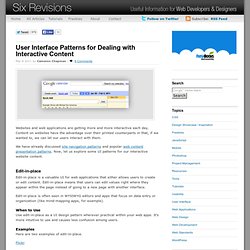 Websites and web applications are getting more and more interactive each day. Content on websites have the advantage over their printed counterparts in that, if we wanted to, we can let our users interact with them. We have already discussed site navigation patterns and popular web content presentation patterns. Now, let us explore some UI patterns for our interactive website content. Edit-in-place
4 forgotten principles of usability testing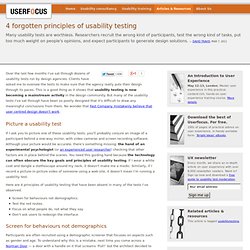 Over the last few months I've sat through dozens of usability tests run by design agencies. Clients have asked me to oversee the tests to make sure that the agency really puts their design through its paces. This is a good thing as it shows that usability testing is now becoming a mainstream activity in the design community. But many of the usability tests I've sat through have been so poorly designed that it's difficult to draw any meaningful conclusions from them. No wonder that Fast Company mistakenly believe that user centred design doesn't work. Picture a usability test
CSS3 Progress Bars
I made some progress bars. They look like this: View Demo Download Files They use no images, just CSS3 fancies. Like a good little designer always does, they fall back to totally acceptable experience.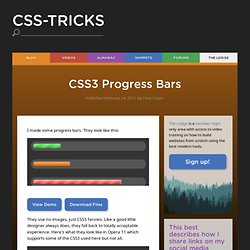 UNITiD | Interaction Design & Usability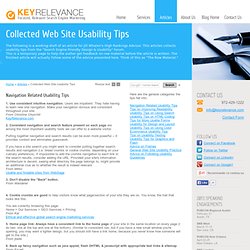 Web Site Usability Tips
Here are the general categories the tips fall into: Navigation Related Usability Tips Tips on Improving Readability Usability Tips on Using Search Usability Tips on HTML Coding Tips for More Usable Forms Usability for Design and Layout Usability Tips on Using Color Ecommerce Usability Tips Tips on Usability Testing Usability Tips for Graphics and Flash Advice on Frames General Web Site Usability Practice Advice on Following Usability Guidelines 1. Use consistent intuitive navigation.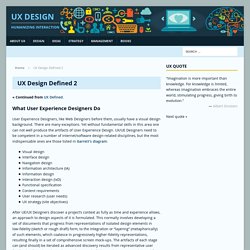 UX Design Defined 2 - User Experience - UX Design
« Continued from UX Defined. What User Experience Designers Do User Experience Designers, like Web Designers before them, usually have a visual design background. There are many exceptions.
UX Pond | Acute search
Round-up of remote usability testing systems
Hiya folks, Firstly, thanks to those who contributed to two recent threads here about remote usability testing systems! I happen to be shopping for a solution myself, and so I did a big round-up of the offerings that I could discover. See: http://spreadsheets.google.com/ccc?key=pc-NAeDLmYFveCRlIejNuFA On a high-level, there is the asynchronous, unmoderated, remote system, available for a wide range of prices.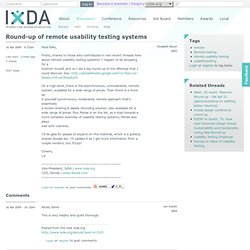 Virtually every web designer I speak with is familiar with the 'alt' attribute: the part of the html 'img' tag that you use to provide an equivalent alternative for people who are unable to see the image. This includes people who are using a screen reader or people who are browsing the web with images turned off. What's less commonly known is that there are five different classes of image used on web pages and each of those images requires a different approach to writing the 'alt' attribute. The five different classes are:
Five kinds of 'alt' text
UI / UX Design Pattern Repositories | Brian Kenyon .com
Welcome to a new era of design-led innovation. IBM Design engages and inspires forward-thinking individuals everywhere to impact humanity in ways that matter and endure. We're looking for designers who will conceive, articulate and lead the future of IBM's entire product portfolio. If you are passionate about solving critical and complex problems, interacting directly with end users, working with powerful technology, and ultimately delivering exceptional experiences through great design — we look forward to hearing from you. Industry professionals and upcoming or recent college graduates are welcome to apply.
amazon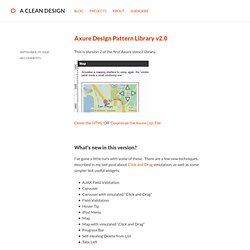 This is Version 2 of the first Axure stencil library. Demo the HTML OR Download the Axure (.rp) File What's new in this version? I've gone a little nuts with some of these. There are a few new techniques, described in my last post about Click and Drag simulation, as well as some simpler but useful widgets. AJAX Field ValidationCarouselCarousel with simulated "Click and Drag"Field ValidationHover TipiPod MenuMapMap with simulated "Click and Drag"Progress BarSelf-Healing Delete from ListTabs Left
Axure Design Pattern Library v2.0 | A Clean Design
blink design library
Ext GWT 2.2.1 Explorer
Basic Binding Basic Binding (UiBinder) Converter Example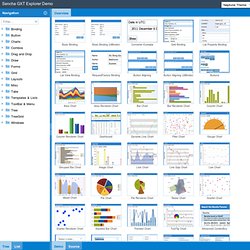 Fluid Persona Format This persona format was created to organize information in the Fluid Personas. The format chosen was based on the competitive analysis of many persona examples below. Page 1: Summary Page 2: More Details
Persona Format - Fluid Project Wiki
Main Page - Social Patterns
vogue vintage patterns free quilt at uidesignpatterns.org
amazon
Suggest a pattern Have you seen new examples of patterns out there that have not been described on this site? Send me a link to an example and I'll add it to my to-do list. Suggest a pattern Latest comments
View the most recent patterns added to the library. Accordion There are too many items to fit into a limited space without overwhelming the user. Availability Provide a way for a user to display to other people (either the public, or their contacts, depending on the rules of the system) when they are available for contact and when not. Display Collection
UX-Design-Patterns