Recomender Systems
OpenRecommender | What will you share today?
The Apache Mahout™ machine learning library's goal is to build scalable machine learning libraries. Mahout currently has User and Item based recommenders Matrix factorization based recommenders K-Means, Fuzzy K-Means clustering Latent Dirichlet Allocation Singular value decomposition Logistic regression based classifier Complementary Naive Bayes classifier Random forest decision tree based classifier High performance java collections (previously colt collections) A vibrant community With scalable we mean: Scalable to reasonably large data sets.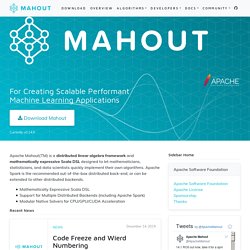 The Duine Framework is a (collection of) software libraries that allows developers to create prediction engines for their own applications. A prediction engine is a component that predicts how interested individual users are in pieces of information. Such predictions can be used to personalise information to users, specifically in recommending to users what information is and is not of interest to them. Duine is the Irish Gaelic word for person and is pronounced as "dinne" (diner without an 'r').
Duine Framework - Recommender Software Toolkit
Cofi: A Java-Based Collaborative Filtering Library
SUGGEST: Recommendation Engine | Karypis Lab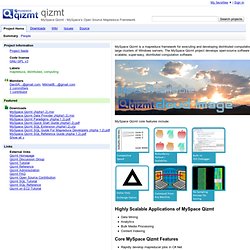 qizmt - MySpace Qizmt - MySpace's Open Source Mapreduce Framework
MySpace Qizmt is a mapreduce framework for executing and developing distributed computation applications on large clusters of Windows servers. The MySpace Qizmt project develops open-source software for reliable, scalable, super-easy, distributed computation software. MySpace Qizmt core features include: Highly Scalable Applications of MySpace Qizmt
easyrec :: open source recommendation engine