Information Visualization
New links
Yay! It's time for a new free giveaway and we are happy to present a wonderfully creative collection of Futurico – Free User Interface Components (PSD). We think that these are so far the greatest user interface components we have shared with you guys and we hope you will agree with us on this. Better see it for yourself and wait for updates because this giveaway will be totally special. We will update it every month with new cool elements so that our beloved readers will have tons of possibilities to use them. As we have always stated, this wouldn't be possible without the help of our designer friends and this time we would like to thank Vladimir Kudinov (Behance Portfolio) for his great help.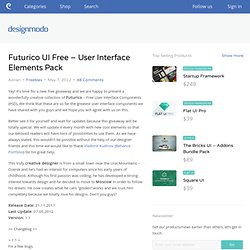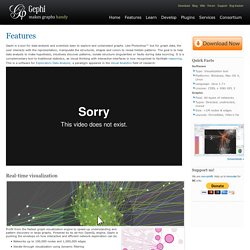 Gephi is a tool for people that have to explore and understand graphs. Like Photoshop but for data, the user interacts with the representation, manipulate the structures, shapes and colors to reveal hidden properties. The goal is to help data analysts to make hypothesis, intuitively discover patterns, isolate structure singularities or faults during data sourcing.
Main Page - GLOW Visualization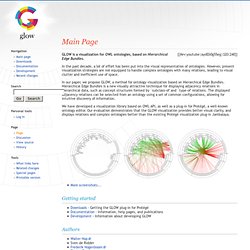 From GLOW Visualization GLOW is a visualization for OWL ontologies, based on Hierarchical Edge Bundles. In the past decade, a lot of effort has been put into the visual representation of ontologies. However, present visualization strategies are not equipped to handle complex ontologies with many relations, leading to visual clutter and inefficient use of space.
The 2012 version is mobile friendly, touch enabled, and has shiny new features. By Luke Mahé and Marcin Wichary. Demo http://html5slides.googlecode.com/svn/trunk/template/index.html Instructions for editing slides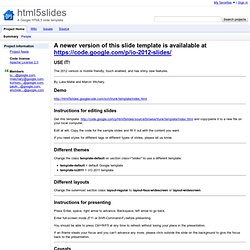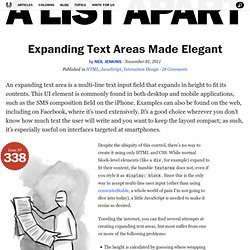 An expanding text area is a multi-line text input field that expands in height to fit its contents. This UI element is commonly found in both desktop and mobile applications, such as the SMS composition field on the iPhone. Examples can also be found on the web, including on Facebook, where it's used extensively. It's a good choice wherever you don't know how much text the user will write and you want to keep the layout compact; as such, it's especially useful on interfaces targeted at smartphones. Issue № 338 Despite the ubiquity of this control, there's no way to create it using only HTML and CSS.
Expanding Text Areas Made Elegant
We Recommend These Resources Lots of us 'know' CSS but don't use it to the max. More perniciously, despite demos like the famous zen garden, it's easy to forget about some of the more powerful -- but more abstract -- applications of CSS. Keeping in mind that old programming habits die hard, Chris Coyier put online some very slick and very useful slides from his talk at the Future of Web Apps conference in London earlier this month.
Improve Your CSS Kung-Fu: Chris Coyier's Best Practices for HTML and CSS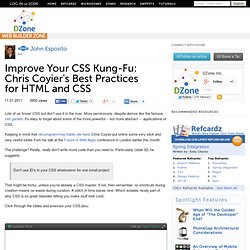 After what appears to be have been a rapid and widespread take-up of its Google+ social media service, Google has now launched details of its 'Ripples' feature. Significantly, news of the release was made by Fernanda Viegas, one of the most prominent names in the field and co-leader, with Martin Wattenberg, of Google's "Big Picture" data visualization group. (Update: the Ripples development team also included Jack Hebert).
Google+ launches 'Ripples' visualisation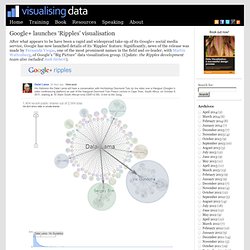 What is Dipity? Dipity is a free digital timeline website. Our mission is to organize the web's content by date and time. Users can create, share, embed and collaborate on interactive, visually engaging timelines that integrate video, audio, images, text, links, social media, location and timestamps. Who is Dipity for?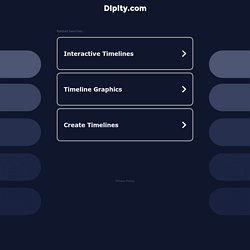 22 Useful HTML5 CSS3 Form Tutorials
Using HTML5 and CSS3 you can create creative web forms with great specifications. So in this roundup we are featuring 22 CSS3 form tutorials. Slick login form with HTML5 & CSS3 HTML5 & CSS3 envelope contact form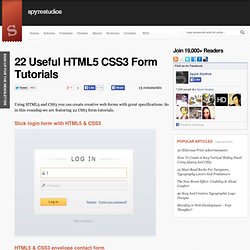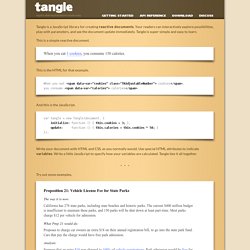 Tangle is a JavaScript library for creating reactive documents. Your readers can interactively explore possibilities, play with parameters, and see the document update immediately. Tangle is super-simple and easy to learn. This is a simple reactive document. When you eat 3
Circle Of Trust
blog » Hexbins!
Binning is a general term for grouping a dataset of N values into less than N discrete groups. These groups/bins may be spatial, temporal, or otherwise attribute-based. In this post I'm only talking about spatial (long-lat) and 2-dimensional attribute-based (scatterplot) bins. Such binnings may be thought of as 2D histograms. This may make more or less sense after what lies beneath.
Sharebar 0EmailShare So here we are with our first post, and we are really excited! What made us launch a new web design blog when there is such a great amount of others, already cool and reputable?
Most Popular Web Design Blogs to Get Inspired | designPunx
Open Source: Flipboard Style Transitions And Reader Example For iPad
Twice a month, we revisit some of our readers' favorite posts from throughout the history of Nettuts+. In this tutorial, I'll show you how to create a customizable interface with widgets. The finished product will be a sleek and unobtrusively coded iGoogle-like interface, which has plenty of potential applications! The Plan First, let's list exactly what we'll be creating here and what features it'll have:
How to Mimic the iGoogle Interface
Dando vida al tiempo / Giving life to time Selecciona tu idioma / Select your language: This simple plugin helps you to give more life to the boring timelines.
15 Creative Website Designs For Inspiration
NIH Enterprise Architecture - Home
Vizualize.me Beta: Turning Your LinkedIn Resume in Infographics