Ecommerce
OCP Overview MICROS-Retail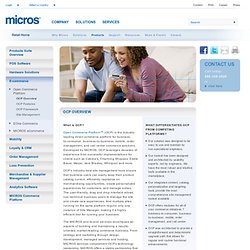 Open Commerce Platform™ (OCP) is the industry-leading direct commerce platform for business-to-consumer, business-to-business, mobile, order management, and call center commerce solutions. Developed by MICROS-Retail, OCP leverages decades of experience from successful implementations for clients such as Cabela's, Charming Shoppes, Eddie Bauer, Meijer, Vera Bradley, Whirlpool and more. OCP's industry-best site management tools ensure that business users can easily keep their product catalog current, efficiently capitalize on merchandising opportunities, create personalized experiences for customers, and manage orders. The user-friendly, drag and drop interface allows non-technical business users to manage the site and create new experiences. And multiple sites running on the same platform require only one instance of Site Manager, making it a highly efficient tool for running your business.
eCommerce Platform Solutions and Services | OrderDynamics On-Demand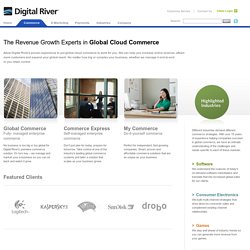 Digital River is a leading provider of global e-commerce solutions.
Different industries demand different commerce strategies. With over 15 years of experience helping companies succeed in global commerce, we have an intimate understanding of the challenges and needs specific to each of these markets. > Software We understand the nuances of today's on-demand software marketplace and translate that into increased global sales for our clients.
www.mivamerchant.com/boutique-special-simple
** Based on historic performance. "The key to running a successful store is not spending all your time maintaining it. With Miva Merchant I am able to focus on running my business and making money." Robert Stanley DirectFix.com How Does the 30 Day Trial Work?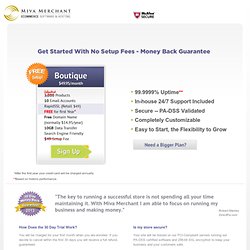 Webstore Gallery - Get Inspired & See What You Can Do | Amazon Webstore
Customer List | Elastic Path Software
CTS Platform
eCommerce On-Demand | Demandware Commerce Platform
Ecommerce Solutions and Services - GSI Commerce, Inc.