Jornais e revistas
Escape. Jornal de negócios online. Económico. Latest news, comment and reviews from the Guardian. Actualité à la Une. The New York Times - Breaking News, World News & Multimedia. Sábado - Notícias, opinião, crónicas, guias de lazer e o melhor conteúdo multimédia.
Expresso | Notícias de atualidade nacional e internacional, economia, opinião e multimédia. EL PAÍS: el periódico global en español. Breaking News, Analysis, Politics, Blogs, News Photos, Video, Tech Reviews - TIME.com. Notícias da atualidade nacional e internacional reportagens e multimédia | Visão. Diário de Notícias. Iniciativa DN Onde é que estava no 25 de Abril?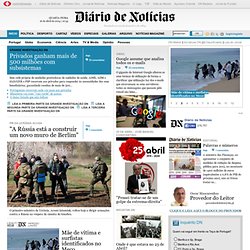 O Diário de Notícias organiza uma iniciativa interativa em que todos podem ajudar a recontar a história da Revolução dos Cravos. Para isso, basta o envio de fotografias tiradas a 25 de abril de 1974 para... PUBLICO.PT.
---