Kitchen
Painted Knife Block. Cute Baby Gift (use style for (cocktail) recipe)
Magnetic Spice Storage. Today we wanted to share a cute idea for organizing your kitchen spices.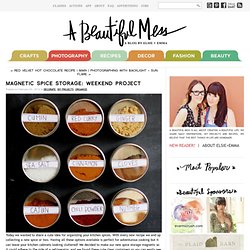 With every new recipe we end up collecting a new spice or two. Having all these options available is perfect for adventurous cooking but it can leave your kitchen cabinets looking cluttered! We decided to make our new spice storage magnetic so it could adhere to the side of a refrigerator, and we found these cute clear containers so you can easily see how much of each spice you have on hand. Here's a before + after comparison. Organized Spices. Mason Jar Herb Garden.
Morning, everyone!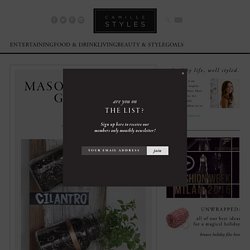 Claire here, with a weekend project that's perfect for all of you who are gearing up for lots of holiday cooking. Remember two weeks ago when I asked for your opinion on which hanging herb garden you liked best? Well, your votes weighed heavily in favor of option #1… so, using it as inspiration, I created my very own indoor herb display.
So excited to share the final product…and to get cooking with my personal garden just in for guests to arrive! Baking Ingredients Storage Jars. Amongst other things, I mentioned how wonderful they are for creating custom embellishments without the need for any fancy pants equipment.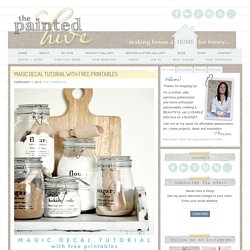 Yep, waterslide decal paper is a truly fab product, though as great as it is, there is one drawback – although it's somewhat tough it's not especially durable. So, whilst it's perfect for ornamental purposes, it's not ideal for more practical applications….until now that is! Magic decal coating paper is a product designed to be used in conjunction with standard decal paper to make the finished transfers durable – yes, even dishwasher resistant!
If you're already familiar with magic decal coating paper then please excuse my tardy excitement, though for everyone else who is just getting to the party now too, feel free to start throwing the streamers! My recently aquired assortment of SLOM jars from IKEA were awaiting some DIY craftiness and seemed the perfect victims candidates for my first magic decal experiment. Wood Cutting Boards. For the longest time, I've been wanting to make some thick wood cutting boards for use around the kitchen and to give as gifts.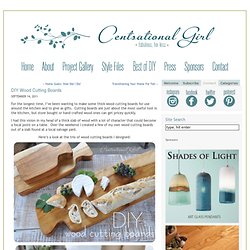 Cutting boards are just about the most useful tool in the kitchen, but store bought or hand crafted wood ones can get pricey quickly. I had this vision in my head of a thick slab of wood with a lot of character that could become a focal point on a table. Over the weekend I created a few of my own wood cutting boards out of a slab found at a local salvage yard. Here's a look at the trio of wood cutting boards I designed:
Chalkboard Mug. December 14th, 2011 Naturally when I discovered porcelain chalkboard paint I had to grab some.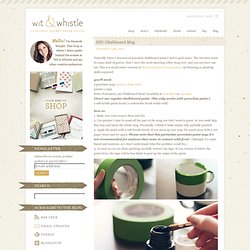 The inventor must be some kind of genius.
---