Upper Mississippi Research
Blount River Cruises, Blount River Cruise, Blount Cruises, Blount Cruise, Blount Small Ship River Cruises. Blount Small Ship Adventures, formerly American Canadian Caribbean Line or ACCL, was founded by Luther Blount to "go where the big ships cannot.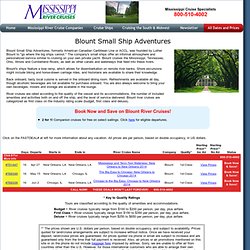 " The company's small ships offer an informal atmosphere and personalized service similar to cruising on your own private yacht. Blount cruises the Mississippi, Tennessee, Ohio, Illinois and Cumberland Rivers, as well as other canals and waterways that feed into these rivers. Living Lands and Waters. Upper Mississippi River Conservation Committee. Www.mississippiexplorer.com/wildlife-refuge.php. Upper Mississippi River National Wildlife and Fish Refuge. The Upper Mississippi River National Wildlife and Fish Refuge is a 240,000-acre (970 km2),[1] 261-mile long (420 km) National Wildlife Refuge located in and along the Upper Mississippi River.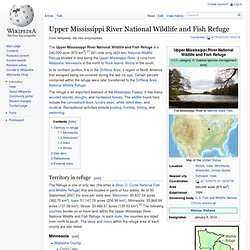 It runs from Wabasha, Minnesota in the north to Rock Island, Illinois in the south. In its northern portion, it is in the Driftless Area, a region of North America that escaped being ice-covered during the last ice age. Home.
---