Development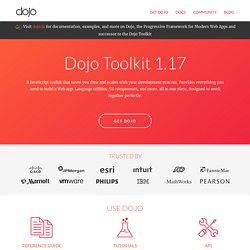 Instantly Better Web Apps Dojo saves you time and scales with your development process, using web standards as its platform. It's the toolkit experienced developers turn to for building high quality desktop and mobile web applications.
Selecting a Framework Once you've downloaded the latest release and played around with the apps, you'll want to decide on a specific framework to try out. Study the syntax required for defining models, views and (where applicable) controllers and classes in the frameworks you're interested in and try your hand at editing the code to see how it feels using it first-hand. Please ensure that if you're happy with this, you do spend more time investigating the framework (including reading the official docs, the source and its complete feature list). There's often a lot more to a framework than what we present in our examples. Getting Involved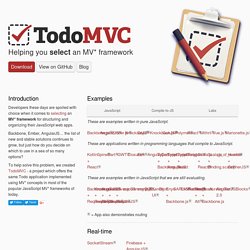 Registration is now open for Camp Sass, held in San Francisco on April 19th. CSS Compatible Sass is completely compatible with all versions of CSS. We take this compatibility seriously, so that you can seamlessly use any available CSS libraries.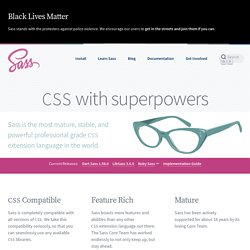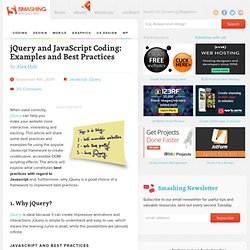 Advertisement When used correctly, jQuery can help you make your website more interactive, interesting and exciting. This article will share some best practices and examples for using the popular Javascript framework to create unobtrusive, accessible DOM scripting effects.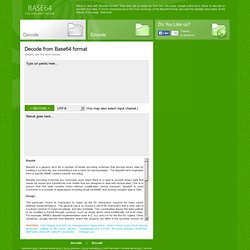 Base64 Decode and Encode - Online
Base64 Base64 is a generic term for a number of similar encoding schemes that encode binary data by treating it numerically and translating it into a base 64 representation. The Base64 term originates from a specific MIME content transfer encoding. Base64 encoding schemes are commonly used when there is a need to encode binary data that needs be stored and transferred over media that are designed to deal with textual data. This is to ensure that the data remains intact without modification during transport.
Recommendations for SharePoint Application Pool Settings - Joel Oleson's Blog - SharePoint Land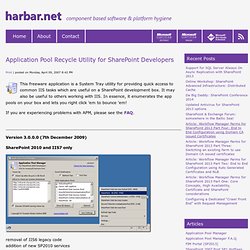 Print | posted on Monday, April 09, 2007 8:42 PM This freeware application is a System Tray utility for providing quick access to common IIS tasks which are useful on a SharePoint development box. It may also be useful to others working with IIS.
Application Pool Recycle Utility for SharePoint Developers
My name is Neal Chester and I'm a web developer and consultant. Sometimes I use special characters as an alternative to images; many of these characters I never knew existed. When I surfed the Web, I always ran into 3 problems with character listings: They contained tons of characters I didn't useThere was no one list that brought together all the characters I neededThe fonts were too small and the page was difficult to use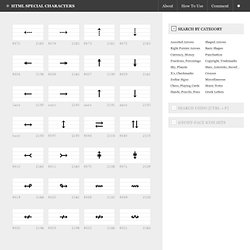 Fast Link Checker
How to display photos from Picasa on your website