Whois
In the January 2014 survey we received responses from 861,379,152 sites, an increase of 355,935 since last month. 2013 has been a year of significant change: the web has grown by more than one third, the importance of SSL has been highlighted by a series of spying revelations, Microsoft now power just below 30% of all web sites, and Apache has lost almost 14 percentage points of market share. Additionally, nginx, the relative newcomer, saw its market share peak at 16%, just shy of Microsoft's position at the beginning of last year. The total number of web sites discovered has increased dramatically this year — from 630 million web sites in January 2013 to 861 million in January 2014 (+37%) — though the growth does not compare to the doubling in size during 2011. With the revelations from the NSA documents leaked by Edward Snowden providing months of mainstream publicity, 2013 has been a bumper year for the SSL industry.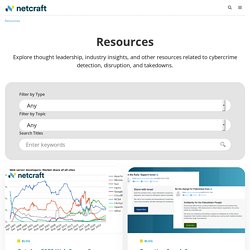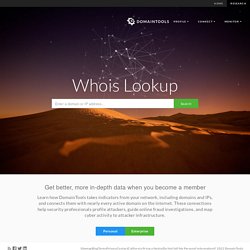 Availability Check DomainTools.com supports more Top Level Domains (TLDs) than any other Whois service. In addition to the popular Generic TLDs like .COM, .NET, .ORG, etc., we also support hundreds of Country Code TLDs (ccTLDs). We offer a basic DNS check for those registries which don't provide standard Whois access and our site is IDN friendly, making it easy to find available domains in other languages.
Welcome This site was created back in 2003 to act as the home of the research, tools, and publications by Stefan Frei. Security research and analysis is my passion and profession. Inspired by the problems surfaced during security assessment engagements and I wrote many tools, some of which I make available here as online network security tools. Results of my research of the "Security Ecosystem", presented at BlackHat, DefCon, or academic conferences, are listed under publications.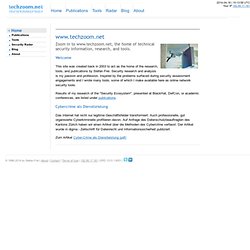 techzoom.net - Welcome to techzoom.net
Beehive/CoDoNS DNS Survey
It is well-known that nameservers in the Domain Name System are vulnerable to a wide range of attacks. We recently performed a large scale survey to answer some basic questions about the legacy DNS: We present the results from this survey below in the hope of identifying problem spots in the Internet and thus improving the security of our common cyberinfrastructure. This study is based entirely on public data - all information available on these pages is also available to others with less-than-honorable intentions.
Everything you need to know about switching your business broadband provider Decided to change broadband provider? Then find out everything you need to know about making the switch including how to get your MAC code. Continue reading » Email marketing tips for small businesses Email marketing can be a great way to communicate with your customers and get new leads.
Internet tools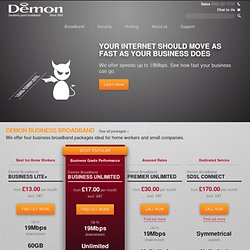 Quick Check