Rsync
Once upon a time, one computer was all you needed. All of your documents lived on that computer, or a stack of floppies or CD-Roms nearby, and nowhere else. Those days are gone, much like the one-car, one-TV, and one-iPod days. Today I have my home computer and my wife has hers.
Synchronizing Your Life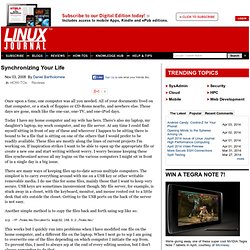 Areca Backup - Home
Cloning a Linux Hard Drive - Custom Systems/White Box - IT Channel News by CRN and VARBusiness
Backups using rsync
Simple Linux Backup Software
Backup Central
System Administration Toolkit: Backing up key information
rsync | Peter's Blog
Easy Automated Snapshot-Style Backups with Rsync
page last modified 2004.01.04 Updates: As of rsync-2.5.6 , the --link-dest option is now standard! That can be used instead of the separate cp -al and rsync stages, and it eliminates the ownerships/permissions bug.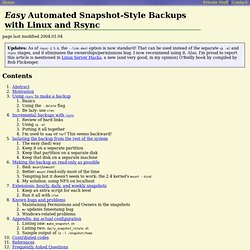 DAR - Disk ARchive