Iptables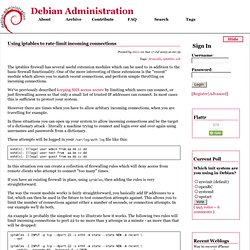 Debian Administration :: Using iptables to rate-limit incoming connections
Posted by Steve on Sun 17 Jul 2005 at 00:39 The iptables firewall has several useful extension modules which can be used to in addition to the basic firewall functionality.
Files
Linux Packet Filtering and iptables - Linux Packet Filtering and iptables
NuFW - An authenticating Firewall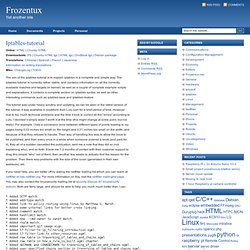 Online: HTML | Chunky HTMLDownloadable: PS | Chunky HTML tgz | HTML tgz | DocBook tgz | Debian packageTranslations: Chinese | Spanish | French | JapaneseInformation on writing translationsMisc: ChangeLog | TODO The aim of the iptables-tutorial is to explain iptables in a complete and simple way. The iptables-tutorial is currently rather stable, and contains information on all the currently available matches and targets (in kernel), as well as a couple of complete example scripts and explanations. It contains a complete section on iptables syntax, as well as other interesting commands such as iptables-save and iptables-restore. The tutorial was under heavy scrutiny and updating, as can be seen in the latest version of the tutorial.
Iptables Tutorial 1.2.2
The Best Script For Iptables Firewall - The UNIX Forums
#!/bin/sh # # rc.DMZ.firewall - DMZ IP Firewall script for Linux 2.4.x and iptables # # Copyright (C) 2001 Oskar Andreasson # # This program is free software; you can redistribute it and/or modify # it under the terms of the GNU General Public License as published by # the Free Software Foundation; version 2 of the License. # # This program is distributed in the hope that it will be useful, # but WITHOUT ANY WARRANTY; without even the implied warranty of # MERCHANTABILITY or FITNESS FOR A PARTICULAR PURPOSE.