Travel Blogs I Recommend
Learning the hard way in vietnam. Trying to learn enough of the local language to help you get around can really be a challenge for your comfort zone.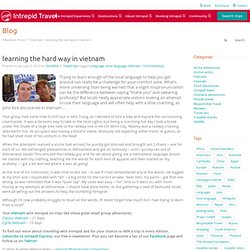 What's more unnerving than being warned that a slight mispronunciation can be the difference between saying "thank you" and swearing profusely? But locals really appreciate visitors making an attempt to use their language and will often help with a little coaching, as John Kirk discovered in Vietnam… "Our group had some time to chill out in Nha Trang, so I decided to hire a bike and explore the surrounding countryside.
It was a fantastic way to take in the local sights, but being a scorching hot day I took a break under the shade of a large tree next to the railway line to Ho Chi Minh City. Brewster Banff Airport Express - Calgary to Banff & the Canadian Rockies. Book now Daily motor coach transfers to and from downtown Calgary, Calgary International Airport, Banff, Canmore, Stoney Nakoda, Lake Louise, Canmore, Kananaskis, and Jasper.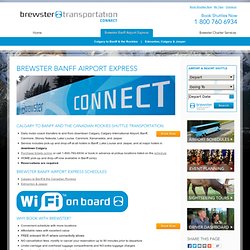 Service includes pick-up and drop-off at all hotels in Banff, Lake Louise and Jasper, and at major hotels in downtown Calgary. Purchase tickets online or call 1-800-760-6934 or book in advance at pickup locations listed on the schedule HOME pick-up and drop-off now available in Banff (only). Reservations are required. New York, Why Do You Try to Change Me? I am not now, nor have I ever been, a fashionista.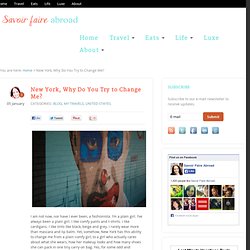 I'm a plain girl. I've always been a plain girl. Through My Lens: Baan Tong Luang Village. Through My Lens: Baan Tong Luang Village • Thailand I like to think of myself as a smart traveler who is not easily scammed, however Thailand proved me wrong, more than once!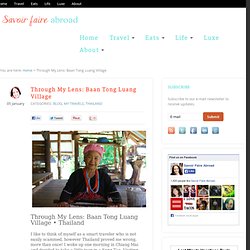 I woke up one morning in Chiang Mai and decided to take a little tour in a Song Tao. Visiting the tigers was high on my list, visiting Baan Tong Luang Village wasn't on my list at all. As you can see from the above photo, I was 'convinced' to go. Escape of the Week: Outdoor Art in Prague. Prague, considered one of the most beautiful cities in the world, is a smorgasbord of style ranging from renaissance to gothic to baroque, contemporary and more.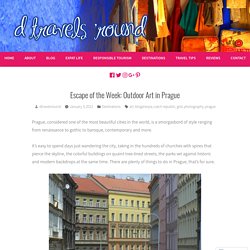 It's easy to spend days just wandering the city, taking in the hundreds of churches with spires that pierce the skyline, the colorful buildings on quaint tree-lined streets, the parks set against historic and modern backdrops at the same time. There are plenty of things to do in Prague, that's for sure. The colorful old buildings of Prague. 2012 • Looking into the Future. Last November Bootsnall held an Indie Travel Challenge where they gave a topic prompt and bloggers were challenged to use each days prompts to write a post for their blog.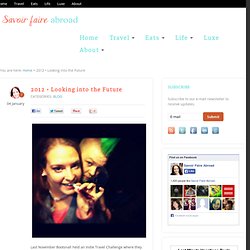 Basically it was like a travel version of NaNoWriMo -which I attempted to do, but got too busy and stopped doing. ANYWAY in 2012 Bootsnall is doing the Indie Travel Challenge again, except this time they'll be giving a topic prompt every week instead of every day and it will last for the entire year. This week's prompt (the first of the year) is 'Resolutions'. A fitting topic. Berlin on a Budget: 6 FREE Activities. Photo Credit Shadowed by a dark past and constantly in the process of rebuilding, Berlin is a sprawling, edgy, and vibrant city with something for everyone's tastes.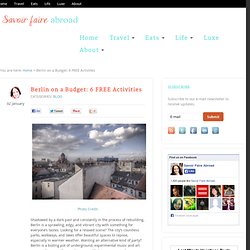 Looking for a relaxed scene? Ringing in 2012 in Niagara. 2012.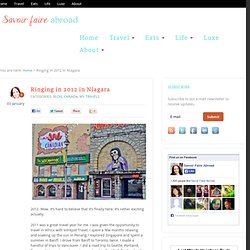 Wow. It's hard to believe that it's finally here. It's rather exciting actually. 2012 • Looking into the Future. Surviving Extreme Winter Weather in Banff. January 04, 2012 |by Pamela MacNaughtan | 0 Comments Frost Everywhere!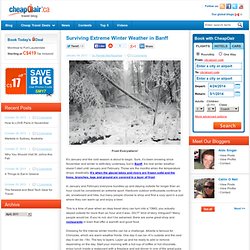 It's January and the cold season is about to begin. Sure, it's been snowing since November and winter is definitely underway, but in Banff, the real winter weather doesn't start until January and February. Exhale in Banff. The patio outside the front of the hotel has been cleared off, and there are only a few people sitting outside.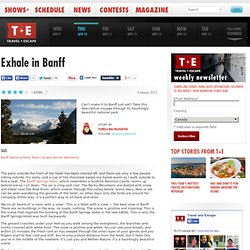 It's early, and a cup of hot chocolate keeps my hands warm as I walk outside to find a seat. The Banff Springs Hotel, which resembles a Scottish Baronial Castle, looms up behind me as I sit down. The air is crisp and cool. Why you should keep your travel savings in a different bank | Don't Ever Look Back. TweetTweet This is a guest post by Emily Starbuck Gerson of Maiden Voyage. Emily is a 20something professional writer and editor based in Austin, Texas. She's a travel junkie who runs the blog Maiden Voyage in her spare time. You can find her on Twitter at @TheMaidenVoyage. Target = Danger Zone. Ringing in 2012 in Niagara. Press Releases, Sponsors, Web Design & More! The past week has been mental! Christmas, Boxing Day, New Years Eve…Plus the in-between days when I was struggling to write articles that are due, work on Mongol Rally things, hang-out with family and celebrate with friends. I'm not complaining though, after weeks of family only time, I was more than happy to escape and spend a long weekend in Niagara Falls.
Which may explain why it's 3:00 p.m. on Monday afternoon and I am just barely starting to write this post. Through My Lens • Snoqualmie Falls. Snoqualmie Falls • Washington State, USA I was introduced to Snoqualmie Falls by Peter West Carey during a trip to Seattle. Peter had offered to take me hiking, which I managed to survive with little complaint, and then drove me out to Snoqualmie Falls. Breaking Down Brick Walls. Making the decision to fly to Canada for the holidays was a hard one. In some ways I worried about letting my readers down. I wasn't 'traveling' constantly as others were and some of my original plans changed after I made the choice to travel along the Silk Road, solo.
I'm really good a building brick walls. Breaking Down Brick Walls. Lip Dub Around the World 2. Brooklyn Globe-Trotters Make Travel Mag for the "Young, Sexy and Broke."  Jesse A. Ward for News Freddie Pikovsky and Anna Starostinetskaya, Co-founders of Off Track Planet, a Brooklyn based travel website, which is expanding to a quarterly magazine which is expanding to over 300 retail stores. A popular DUMBO-based travel website for young globe-trotters on a tight budget is veering offline and onto the magazine rack. Offtrackplanet.com - an online travel magazine geared toward the "young, sexy and broke," - will sell copies of their magazine for the first time in more than 300 stores nationwide - including Barnes and Noble.
Poling in the Okavango Delta. You'll Never Forget It. Through My Lens • Snoqualmie Falls. Sleeping Under the Stars. Celebrating New Years Eve in Banff. Meet Ian, Our Matabos Guru. Photographs. White Temple in Chiang Rai, #Thailand. » 2012 Travel Tech Gear. Monkey | Angkor Wat, Cambodia. Ten Travel Words. 2012 Travel Tech Gear. Looking for Quirky Fun in 2012. The Lotus Children's Charitable Trust, 2012 Mongol Rally Charity - Spunkygirl. New York, I'm Coming Back!! New York, I'm Coming Back!! Make it a Full Experience in Paris. A Possible Return to Scotland. Through My Lens • Islamic Quarter • Xi'an, China. SM Stowaway. Through My Lens • Islamic Quarter • Xi'an, China. How Am I Going to Pay for the Mongol Rally? Niagara's Unknown Attraction. Dangerously Close to Home. SpunkyGirl's Ultimate Travel Kit. Through My Lens • Musée du Louvre - Spunkygirl.
7 Things About Icewine That You May Not Know - SpunkyGirl. Travel Contest 2012 - Win RM5000 Vouchers from KLIA. SpunkyGirl's Ultimate Travel Kit. How Much Does the Mongol Rally Cost? She Deals With Loneliness on the Road. SpunkyGirl Talks the Mongol Rally, the Car and... Video - Toronto Travel Videos. SpunkyGirl Talks Mongol Rally, the Car &... The Gadget I Thought I Would NEVER Buy. Through My Lens| Rideau Canal - Spunkygirl. The Gadget I Thought I Would NEVER Buy. You'll Never Forget It. Maple Trees | Fredericton, New Brunswick – Canada. What to Pack in a Medical Kit for Travel. User Profile - SpunkyGirl - Travel Videos.
Mongol Rally Monthly. Through My Lens| Rideau Canal - Spunkygirl. Spotted Lake, a sacred medicine lake in British Colombia, Canada. Sano Babu Sunuwar and Lakpa Tsheri Sherpa, Adventurers of the Year 2012. SpunkyGirl is Doing the Mongol Rally in 2012! Traveling with Intrepid: People of Africa. Not to Miss Toronto Institutions. 2012: The Year of Adventure Travel - Spunkygirl. 8 Statements You Should Know Before Visiting Japan. Photo Friday: Giraffe. What is the Mongol Rally? - Spunkygirl. 8 Statements You Should Know Before Visiting Japan. Unbrave Girl. The Everywhereist's Travel Blog | Selected Time Top Blogs of 2011 » The Everywhereist. AlmostFearless.com | Travel, Adventure and Mishaps in a Beautiful and Bizarre World. Italy Travel Guide to Hotels, Vacations, Tours. Adventure Couple Travel Blog The Planet D.
---