Graphic design
C.R.A.P.:The Four Principles of Sound Design. By Daniel Scocco This is a guest blog by Jacob Cass.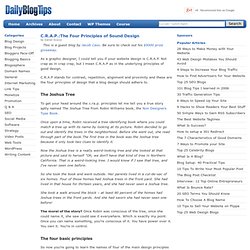 Be sure to check out his $5000 prize giveaway. As a graphic designer, I could tell you if your website design is C.R.A.P. Not crap as in crap crap, but I mean C.R.A.P as in the underlying principles of good design. C.R.A.P stands for contrast, repeitition, alignment and proximity and these are the four principles of design that a blog design should adhere to. JUST™ Creative - Graphic Designer, Logo & Brand Identity Specialist.
CreativePro | Graphic Design and Photography Software, Reviews, Tutorials, News, and Resources. 99 Graphic Design Resources. Posted on 25'08 Feb Posted on February 25, 2008 along with 379 JUST™ Creative Comments Below is a list of 99+ graphic design resources, in English and (and a few other languages), that all designers must know about.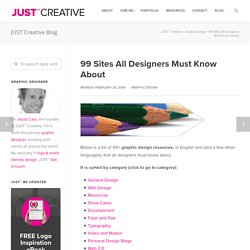 It is sorted by category (click to go to category): Adobe TV. 13 Signs You're A Bad Graphic Designer. Posted on 06'07 Dec Posted on December 6, 2007 along with 90 JUST™ Creative Comments Yes, this is a controversial topic, however I hope to raise awareness of some mistakes you may be making in your graphic design pieces that are making you look like an amateur, but please keep in mind that none of these are hard and fast rules, this is only a general guide of things you should be aware of.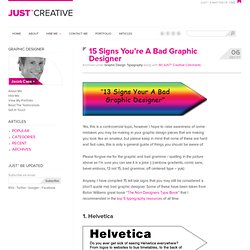 Please forgive me for the graphic and bad grammar / spelling in the picture above as I'm sure you can see it is a joke :) (rainbow gradients, comic sans, bevel emboss, 13 not 15, bad grammar, off centered type – yuk) Anyway, I have compiled 15 tell tale signs that you may still be considered a (don't quote me) bad graphic designer. Ideabook.com: Ideas, articles, and resources for graphic designers and marketers by author and designer Chuck Green. 99 Graphic Design Resources. Brainbuffet Free tutorials and Lesson plans. Computer Graphics. DESIGN PRINCIPLES What is the purpose of graphics?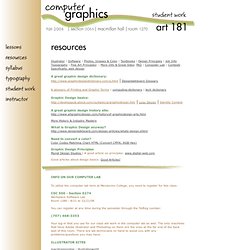 1) To support content, 2) Create visual appeal, 3) Aid organization, 4) Aid eyeflow A good article about Design Principles: Principles_of_design Another great ad: Why Bad Ads Happen to Good Causes Hierarchy The tools you use to prioritize your content; how you organize your design. Victorianferndale | www.scion.com Good navigation with the use of color: | www.lacountyarts.org | Learningresources Focal Point Every design needs one of these - it will attract your viewer and draw them in. How to make a Focal Point | Good example | Genesis Box | Hautmanwebdesign | Bodyandsoul A good example of a site that NEEDS a focal point: Soccer Box A focal point can be text too: Bandwmag Eyeflow Painting by Seurat What guides your eyes on these sites?
Graphicdesigniq.pdf. Graphic Design Course Curriculum: Software, Typography, Colour, Illustration, Photography, Logotype, Design Systems, Portfolio Skills. The government accredited Certificate IV in Design CUV40311 qualification is recognised by employers and industry groups Australia wide.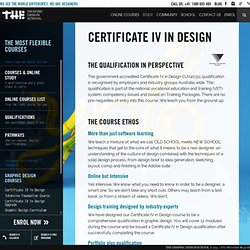 This qualification is part of the national vocational education and training (VET) system, competency based and based on Training Packages. There are no pre-requisites of entry into this course. We teach you from the ground up. The course ethos More than just software learning.