Linux
Puppy430-tutorial-English.pdf (application/pdf Object)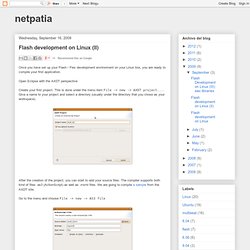 Flash development on Linux (II)
Once you have set up your Flash / Flex development environment on your Linux box, you are ready to compile your first application. Open Eclipse with the AXDT perspective Create your first project. This is done under the menu item File -> new -> AXDT project... . Give a name to your project and select a directory (usually under the directory that you chose as your workspace).
Flash development on Linux
Recently I am getting more and more interested in flash development. Since the adoption of actionscript 3 (as3) as programming language Flash is becoming more and more a serious option to develop applications The main inconvenient that I find is the fact that the development tools are almost just available for the Windows environment. This is an operating system that I stopped using almost two years ago, and I do not have any intention to come back to such family of operating systems. I am into free software, so I will try to do flash development based on open source tools as much as I can.