Nine Inch Nails
nine inch nails
Un article de Wikipédia, l'encyclopédie libre. Nine Inch Nails Nine Inch Nails en concert à San Diego, Californie en 2005 Nine Inch Nails (NIN ou parfois stylisé NIИ) est un groupe de metal industriel[1],[2],[3] américain fondé en 1988 par Trent Reznor à Cleveland. Étant le principal producteur, chanteur, compositeur et instrumentiste, Reznor représente l'unique membre officiel de Nine Inch Nails et reste le seul responsable de sa direction[4]. Principalement metal industriel, la musique de Nine Inch Nails propose un assemblage éclectique de genres comme le rock alternatif, l'ambient, l'electronica et le synthpop.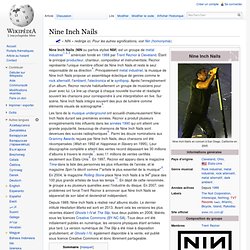 Nine Inch Nails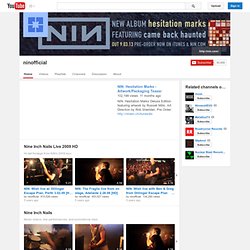 Welcome to YouTube! The location filter shows you popular videos from the selected country or region on lists like Most Viewed and in search results.To change your location filter, please use the links in the footer at the bottom of the page. Click "OK" to accept this setting, or click "Cancel" to set your location filter to "Worldwide".
Nine Inch Nails - Head Like A Hole
Nin - Mr Self Destruct
Nine inch nails - Capital G
Nine Inch Nails - Hurt
NIN: The Fragile live from on stage, Adelaide 2.28.09
Nine Inch Nails - 1,000,000 (live from Sacramento)
Nine Inch Nails . Woodstock. Hapiness in slavery. Increible!
Trent Reznor and Atticus Ross - In the Hall of the Mountain King