Generic
What You Will Learn Organizations are increasingly moving their applications to the cloud to increase their business agility, and achieve cost savings by consuming infrastructure resources in a usage-based model.
Virtual Wide Area Application Services: Cloud-Ready WAN Optimization Solution  [Cisco Virtual Wide Area Application Services (vWAAS)
TsengJosh_Role_of_WAN_Opt_Cloud_3-18-2011
Cloud Steelhead Cloud-intelligent WAN Optimization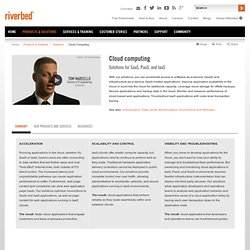 Uses live application traffic to determine baseline performance, analyze application tier mapping, and identify dependencies that can affect performance in public and hybrid clouds.
WAN optimization headed to the cloud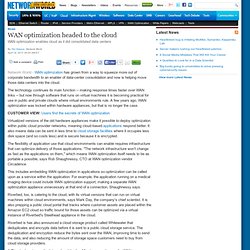 Network World - WAN optimization has grown from a way to squeeze more out of corporate bandwidth to an enabler of data-center consolidation and now is helping move those data centers into the cloud.
Optimizing Oracle Streams with BIG-IP WAN Optimization Module | Solutions
Oracle Streams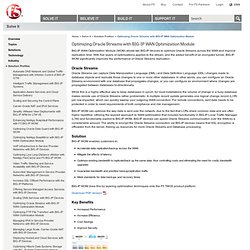 oracle-streams.png (PNG Image, 800 × 506 pixels) - Scaled (66%)
Blue Coat Breaks the Barrier for Public Cloud Optimization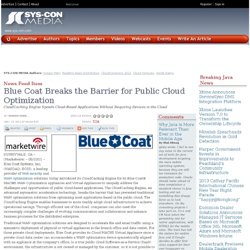 SUNNYVALE, CA -- (Marketwire) -- 05/10/11 -- Blue Coat Systems, Inc. (NASDAQ: BCSI), a leading provider of Web security and WAN optimization solutions, today introduced its CloudCaching Engine for its Blue Coat® MACH5 WAN Optimization appliances and Virtual Appliances to uniquely address the challenges and opportunities of public cloud-based applications. The CloudCaching Engine, an advanced asymmetric acceleration technology, breaks the barrier that has prevented traditional WAN optimization solutions from optimizing most applications based in the public cloud.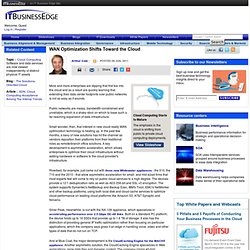 WAN Optimization Shifts Toward the Cloud
Cloud Computing Starts to Mature
Cloud-ready networks, WAN Optimization, Visibility, QoS & Control - Ipanema Technologies