Generic
Virtual Wide Area Application Services: Cloud-Ready WAN Optimization Solution  [Cisco Virtual Wide Area Application Services (vWAAS) What You Will Learn Organizations are increasingly moving their applications to the cloud to increase their business agility, and achieve cost savings by consuming infrastructure resources in a usage-based model.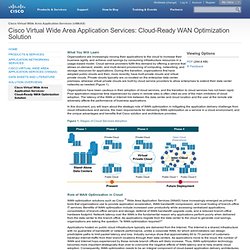 Cloud service providers fulfill this demand by offering a service that allows on-demand, elastic, and multi-tenant provisioning of computing, networking, and storage resources for applications. During this transition, organizations first have adopted public clouds and then, more recently, have built private clouds and virtual private clouds.
Private clouds typically are co-located on the enterprise data center premises, whereas virtual private clouds are built by cloud service providers to allow enterprises to extend their data center networks as needed (Figure 1). Organizations have been cautious in their adoption of cloud services, and the transition to cloud services has not been rapid. TsengJosh_Role_of_WAN_Opt_Cloud_3-18-2011. Cloud Steelhead Cloud-intelligent WAN Optimization. Uses live application traffic to determine baseline performance, analyze application tier mapping, and identify dependencies that can affect performance in public and hybrid clouds.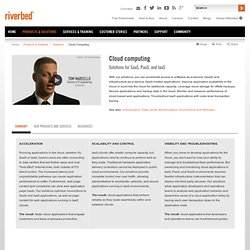 Accelerate Microsoft Office365 and Salesforce.com with Steelhead WAN optimization cloud-based deployments. Deploy Steelhead WAN optimization into IaaS cloud environments to accelerate applications and reduce bandwidth charges. Deploy a full-featured Layer-7 application delivery controller into an IaaS cloud to increase application reliability, performance, and control. Deploy application firewall software into an IaaS cloud to defend against common application vulnerabilities such as SQL injection, cross-site scripting, etc.
WAN optimization headed to the cloud. Network World - WAN optimization has grown from a way to squeeze more out of corporate bandwidth to an enabler of data-center consolidation and now is helping move those data centers into the cloud.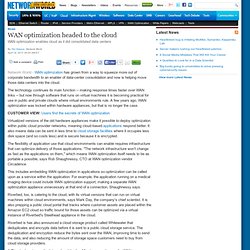 The technology continues its main function -- making response times faster over WAN links -- but now through software that runs on virtual machines it is becoming practical for use in public and private clouds where virtual environments rule. A few years ago, WAN optimization was locked within hardware appliances, but that is no longer the case. CUSTOMER VIEW: Users find the secrets of WAN optimization. Optimizing Oracle Streams with BIG-IP WAN Optimization Module | Solutions. Oracle-streams.png (PNG Image, 800 × 506 pixels) - Scaled (66%) Blue Coat Breaks the Barrier for Public Cloud Optimization. SUNNYVALE, CA -- (Marketwire) -- 05/10/11 -- Blue Coat Systems, Inc.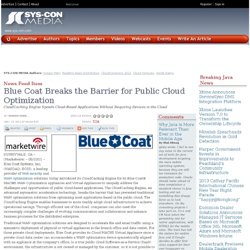 (NASDAQ: BCSI), a leading provider of Web security and WAN optimization solutions, today introduced its CloudCaching Engine for its Blue Coat® MACH5 WAN Optimization appliances and Virtual Appliances to uniquely address the challenges and opportunities of public cloud-based applications. The CloudCaching Engine, an advanced asymmetric acceleration technology, breaks the barrier that has prevented traditional WAN optimization solutions from optimizing most applications based in the public cloud. WAN Optimization Shifts Toward the Cloud. Cloud Computing Starts to Mature The emphasis in the cloud is shifting from public to private cloud computing deployments.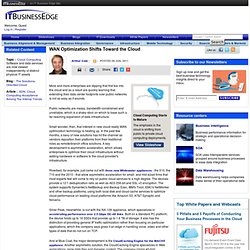 More and more enterprises are dipping that first toe into the cloud and as a result are quickly learning that extending their data center footprints over public networks is not as easy as it sounds. Public networks are messy, bandwidth-constrained and unreliable, which is a shaky stool on which to base such a far-reaching expansion of data infrastructure. Cloud-ready networks, WAN Optimization, Visibility, QoS & Control - Ipanema Technologies.
---