Picturesque
Susancoffeys deviantART gallery. The Great Geek Manual & The World's Most Beautiful Libraries. I make no secret of the fact that I'm a hardcore bibliophile, but we're a common enough lot these day.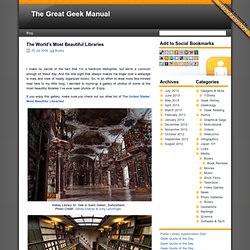 And the one sight that always makes me linger over a webpage is rows and rows of neatly organized books. So, in an effort to draw more like-minded read here to my little blog, I decided to round-up a gallery of photos of some of the most beautiful libraries I've ever seen photos of. Enjoy. Make your own path. UgUyI.png from humordistrict.com. Nature-Category-Winner-Aaron-Feinberg.jpg from popphoto.com. Albert-einstein-intuition.jpg from mocustomers.com. Фото и рисунки, арт и креативная реклама. View%20From%20Watchman%20Bridge,%20Zion%20National%20Park.jpg from panhala.net - StumbleUpon. 00tx6f3y-1024x719.jpg from englishrussia.com. Formal_apology0-size-790x0.jpg from humorpix.com.
Street art
Piccsy :: Image Bookmarking :: Unsupported browser. Clouds,dream,message,personality,philosophy,quote-1c80dfa9082ff66ba581a1b96be... - StumbleUpon. The 8 world's most prominent hyper-realist sculptors & Blog of... 140674_1246483397_large.jpg from cgsociety.org. Tree_lake_and_stones_1600x900.jpg from owall.net. Free-scenery-wallpaper-1280x800-1004082.jpg from wallpaperstop.com. 10 Strangest Trees on Earth. Matthew Fox once said – "If you look closely at a tree you'll notice its knobs and dead branches, just like our bodies.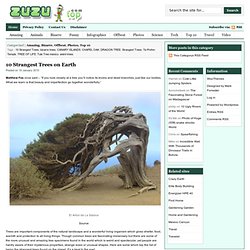 What we learn is that beauty and imperfection go together wonderfully." El Arbol de La Sabina. State of the Nation - StumbleUpon. If possible, the first images in each set will be true-color, as you would see them with your own eyes.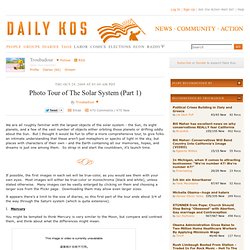 Most images will either be true-color or monochrome (black and white), unless stated otherwise. Many images can be vastly enlarged by clicking on them and choosing a larger size from the Flickr page. Fairytale Destinations. Is it a dream or is it for real?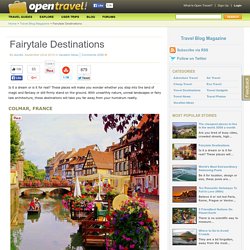 These places will make you wonder whether you step into the land of magic and fantasy or still firmly stand on the ground. With unearthly nature, unreal landscapes or fairy tale architecture, these destinations will take you far away from your humdrum reality. Picturesque Colmar in France, considered the most beautiful city in Europe, looks like it came straight out of a fairy tale. Jul09wallpaper-8_1280.jpg from nationalgeographic.com. &Killer& Winter Storm Seen From Space; U.S. Blanketed - StumbleUpon. You could call it Snowpocalypse 2011—one of the biggest and worst winter storms since the 1950s has walloped at least 30 U.S. states, according to NASA.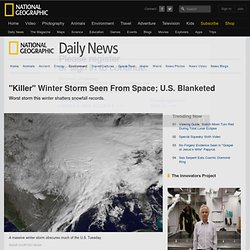 Snow, sleet, freezing rain, and just plain old rain have fallen as part of a massive system that stretches from Texas, through the Rockies, and into New England. (Explore an interactive map of the United States.) NASA satellites have been monitoring the storm's clouds and movement every 15 minutes, beaming back pictures of much of the U.S. blanketed in white, including the above picture, taken Tuesday. In particular, the storm has brought blizzard conditions to the Midwest, severe ice buildup in the Mississippi River valley, and heavy rain and thunderstorms in the Deep South, according to NASA.
Snowflakes Up Close: A Small, Fragile World. If you're one of those people who likes to ponder things while looking out a frosty window on a cold winter day, these pictures will clear up one of those long standing wonders: each snowflake really IS unique.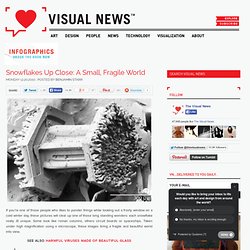 Some look like roman columns, others circuit boards or spaceships. Taken under high magnification using a microscope, these images bring a fragile and beautiful world into view. See Also HARMFUL VIRUSES MADE OF BEAUTIFUL GLASS They say that every snowflake is different. If that were true, how could the world go on? Domo-kun.png from harvard.edu. New photos | Landscape photos | landscapes with a soul. Ant sitting nice by Elisabeth Gustafson. Social networking by ~IigouthamiI on deviantART. Zoom.gif from threadless.com. Excellent Ads. G A L L E R Y. The 20th Century The Way It Should Have Happened.
I think we all need something like this. Do you agree? 3a44236v.jpg from loc.gov. 2010-09-14-657stop.gif from wondermark.com. 17077_1232376121_large.jpg from cgsociety.org. A.y. - just so beautiful pictures ...oO° The World In The Year 3000 - CoolVibe - Digital Art, Wallpapers, Inspiration. In Pictures: Inside the Chernobyl nuclear power plant.
---