Concept
Battlefield-large.jpg from moltee.com. Victorian Organ Command Desk & Steampunk Home Tour. You'll recall I recently visited the Steampunk home of Bruce and Melanie Rosenbaum.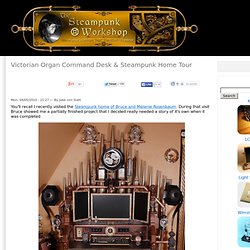 During that visit Bruce showed me a partially finished project that I decided really needed a story of it's own when it was completed This is the "Victorian Organ Command Desk" that Bruce commissioned. It's made from bits and pieces of Victorian detritus that Bruce had collected including the carcass of a 19th century pump organ. All of the major components are in fact authentic Victorian antiques, period reproductions, or salvaged items. You'll note the organ pipes mounted on the wall behind the console. Sony Nextep Computer Concept for 2020 by Hiromi Kiriki & Yanko Design. In 2020 We Can Wear Sony Computers On Our Wrist Our present need for internet connectivity is so profound that secondary devices like the Nextep Computer are bound to happen.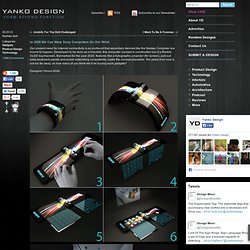 Developed to be worn as a bracelet, this computer concept is constructed out of a flexible OLED touchscreen. Earmarked for the year 2020, features like a holographic projector (for screen), pull-out extra keyboard panels and social networking compatibility, make the concept plausible. Solar-Powered Glass Road Could Melt Snow Automatically - FoxNews.com. It's being called snowmageddon – and for good reason.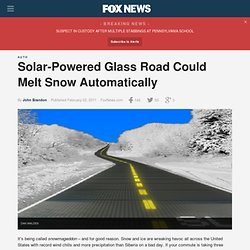 Snow and ice are wreaking havoc all across the United States with record wind chills and more precipitation than Siberia on a bad day. If your commute is taking three times as long as it usually does, go ahead and blame the archaic highway system. That's right. In the 1950s, the idea of paving America with black asphalt seemed like a good idea. UnTime Clock Concept by Pushkar Ingale & Yanko Design. Pouring Light Lamp by Yeongwoo Kim & Yanko Design. Pour Me Some Light Human actions play such a significant role in design; it's either evident in the form or in the function.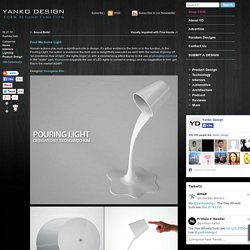 In the Pouring Light, the action is evident in the form and is delightfully executed as well! Star Trek Ren. NESTREST - Architecture Linked - Architect &Architectural Social Network - StumbleUpon. Doesn't that picture look so peaceful and inviting?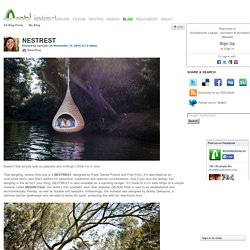 I think I'm in love. That dangling, serene little pod is a NESTREST, designed by Paris' Daniel Pouzet and Fred Frety. It's described as an over-sized bird's nest that's perfect for relaxation, meditation and open-air conversations. Eco Coke by Andrew Kim & Yanko Design. Getting All Square with Coke Alright eco-force!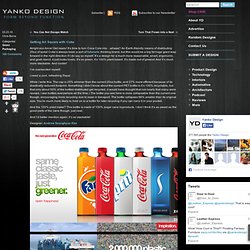 Get ready! Modern New Home in Old Stone Church. From the outside it appears to be just the same as any other unassuming old church, however take a look inside and this place of worship has been turned into an ultra modern family home.
Based in Utrecht, this small-church renovation features a series of levels within the existing large and awe inspiring space. The mezzanine represents a partial reversion from the building's last design iteration, and (as the plans above show) is less intrusive than it might appear. Underneath the upper floor mezzanine lie the bathrooms, bedrooms and a personal study, which provides the churchs inhabitants with privacy. None of these newly-created rooms, however, would be difficult to remove should anyone seek to fully restore the space at some point. Strand Craft 166 - Gray Design - Visualization and Concept Design from Eduard Gray. When DARTZ wanted to upgrade their next generation of the Mojo prototype, they came to Gray Design to create the styling that would give it the road presence that this kind of architecture demands.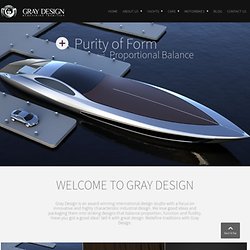 What we created was low to the ground, had an eager stance, trademark sweeping lines and was compact enough to sit on their selected chassis. The result was a design that was welcomed amongst the coastal regions and sunny areas of the world that could make the most of the open topped freedom of the design.
---