Field school
The Silchester Field School. The 2014 Field School will be from Monday 7 July to Saturday 16 August 2014.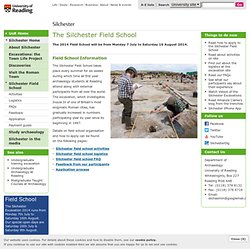 Field School Information The Silchester Field School takes place every summer for six weeks during which time all first year archaeology students at Reading attend along with external participants from all over the world. Archaeological Methods. Iron Age olives and pampered pets. Jul 20, 2012 Articles, News 0 Ongoing excavations at Silchester, Hamps., (CA 250) have uncovered the first evidence that Britain's inhabitants were enlivening their meals with Mediterranean flavours before the Roman conquest – including Britain's first Iron Age olive.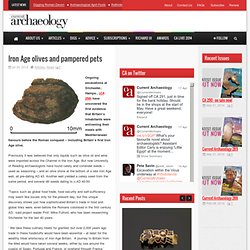 Previously it was believed that only liquids such as olive oil and wine were imported across the Channel in the Iron Age. But now University of Reading archaeologists have found celery and coriander seeds – used as seasoning – and an olive stone at the bottom of a late Iron Age well, all pre-dating AD 43. Another well yielded a celery seed from the same period, and several dill seeds dating to c.AD 40-50. Reading Museum • Silchester - The Roman town of Calleva. Silchester from the East, by Alan Sorrell (Crown copyright) object no. 1975.37.1 The Silchester Collection consists of a wealth of items from the Roman town of Calleva, near Silchester, in Hampshire.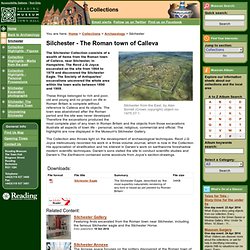 The Revd J.G Joyce excavated on the site from 1864 to 1878 and discovered the Silchester Eagle. Silchester - Late Roman Insula IX. The Insula IX excavation. The Town Life project is an ongoing excavation of one block of the Silchester Roman Town by the Department of Archaeology at the University of Reading.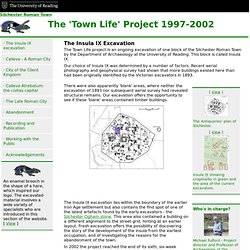 This block is called Insula IX. Our choice of Insula IX was determined by a number of factors. Recent aerial photography and geophysical survey had shown that more buildings existed here than had been originally identified by the Victorian excavators in 1893. [ View ] The Antiquaries' plan of Silchester.