Forensic Science resources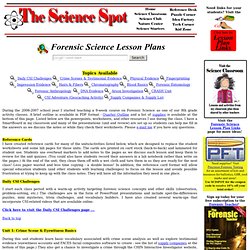 R eference Cards I have created reference cards for many of the units/activities listed below, which are designed to replace the student worksheets and some lab pages for those units.
Forensic Science
Human: Forensic Entomologist : Video
Blood Spatter
Blood spatter at the scene of a crime can be useful in reconstructing what and how events took place by determining the location of the source of the blood source or the direction of movement. Blood spatter can also help determine whether a person was at the crime scene during the offense. There is a very basic classification system of spatter patterns, which is based upon the velocity of the object causing the impact upon the blood source and the size of the resulting blood pattern or spatter evidence. Carpenter's Forensic Science Resources: Forensic Anthropology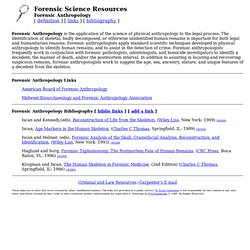 Forensic Anthropology is the application of the science of physical anthropology to the legal process.