TV
the_it_crowd.the_last_byte.hdtv_x264-fov.mp4
Edit Storyline British writer-producers Beverly and Sean Lincoln ( Tamsin Greig and Stephen Mangan ), have a wonderful marriage and a hit TV series to their credit. Things couldn't be better.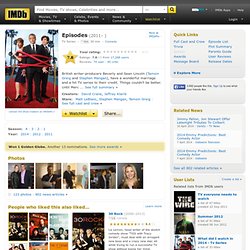 Episodes (TV Series 2011–
The IT Crowd (TV Series 2006–
Undeclared (TV Series 2001–2003
Edit Storyline College freshman Steve Karp and his fellow dorm-mates embark on one the greatest experiences of their lives...unfortunately for Steve, his lonely and recently divorced father is tagging along for the ride. Add Full Plot | Add Synopsis Taglines: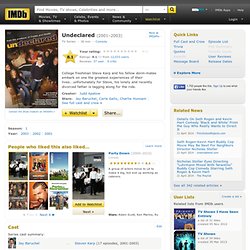 Sports Night (TV Series 1998–2000
Happy Endings (TV Series 2011–
Around the World in 80 Days (2004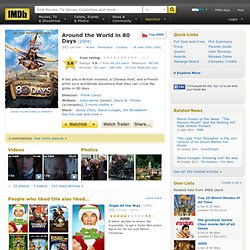 Edit Storyline Set in 1872, the story focuses on Passepartout, a Chinese thief who steals a valuable jade Buddha and then seeks refuge in the traveling companionship of an eccentric London inventor and adventurer, Phileas Fogg, who has taken on a bet with members of his gentlemen's club that he can make it around the world in a mere 80 days, using a variety of means of transportation, like boats, trains, balloons, elephants, etc. Along the way, Passepartout uses his amazing martial arts abilities to defend Fogg from the many dangers they face..
Mind- Bending Films With Unreliable Narrators: Memento,The Machinist, Fight Club-Movies With Unusual Twists | Suite101.com
Top 15 Psychological Thrillers
Psychological thrillers are my favorite types of film. They hold the majority of positions in my DVD collection and are the ones I watch most often. Nothing can beat the heart racing as you anticipate the next move and better yet, these films don't need to be filled with gore and blood to shock and frighten.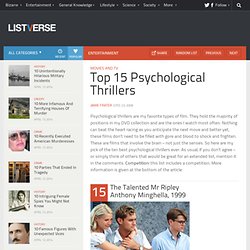 The 10 Best Psychological Thrillers Of All Time. - a list by Fardin Great for Girls
If there's one thing movies do better than any other art form, it's weirdness. The combination of sight, sound, and music make for a perfect cocktail to take the audience away on a wild and spaced-out ride; and in recent years filmmakers have even started using film as a way to explore heady philosophical ideas like the nature of identity, time, and consciousness. With this in mind, the following are ten movies that have some of the most far-out, inventive , and thought-provoking plotlines in film history. There are countless honorable mentions that could have easily made this list, so please feel free to leave any suggestions in the comments section. 10.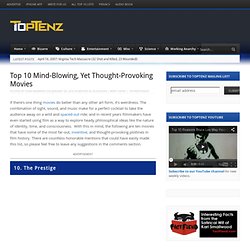 Top 10 Mind-Blowing Movies