Cool ideas
KONZERTHAUS DORTMUND. THE KONZERTMILCH CASE.‬‏
Charge Your Phone or iPod on Vitaminwater's USB Bus-Stop Ads
99% Conference 2011: Key Insights on Idea Execution
Just over a week ago, 400 creative professionals from around the world packed the Times Center in New York City for the third annual 99U Conference, presented by GE. With tickets sold out over five months in advance, anticipation was high, and the audience arrived buzzing with energy – ready for a deep dive into the mechanics of making ideas happen. Lucky for us, with an expanded lineup of 14 speakers and 3 master classes, we had an incredible group on hand to deliver actionable insights. Making ideas happen is a unique process for everyone – and the speakers tackled the topic from a variety of fascinating angles.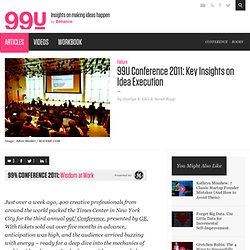 Feel like reliving all of advertising's big milestones, including major agency launches, mergers, and acquisitions since the 1830s? Sure you do. Thankfully, Aquent has done the work for you.
200 Years of the Advertising Business in One Handy Infographic
h3ddbuozj Shared by spookette
Twitter Job Hustle
vitamintalent
Friskies : Games for cats, la première gamme de
The 1st radio ad for dogs
La marque d'aliments canins Naturia a trouvé un moyen bien efficace de démontrer à quel point ils comprennent leur cible : en développant le premier spot radio destiné aux chiens – ou plutôt à faire réagir les chiens. Comme le montre la vidéo ci-dessous, en retravaillant les fréquences, l'agence allemande Grabarz & Partner a créé un spot uniquement composé de sons destinés à alerter / exciter nos charmantes bêtes à poils (des sons imperceptibles à l'oreille humaine). Le résultat est plutôt efficace : une voix-off déroule la promo Naturia, et au son du spot les bêtes s'affolent devant les enceintes, faisant réagir leurs maîtres qui découvrent leurs chiens s'animer au son de l'offre promo.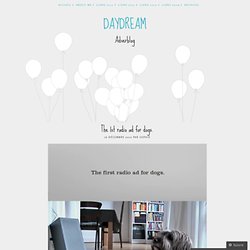 Search results for: qwiki
Goldenhook, votre création tricottée par des supers mamies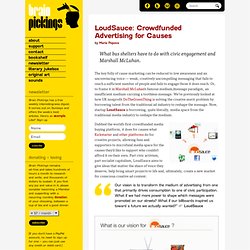 LoudSauce: Crowdfunded Advertising for Causes that Matter
by Maria Popova
If Don Draper were walking among us, we're betting he'd count this as a pretty clever sell: Sir Richard's, a new condom startup, is advertising its wares not by promises of hair-pulling, nail-scratching pleasure, but rather economics.
Condom Campaign Highlights Dizzying Costs of Having a Kid | Co.Design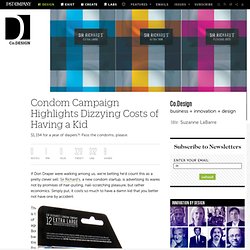 Flux Bible : choisissez votre religion, customisez
It's More Likely You Will Survive A Plane Crash Or Win The Lottery Than Click A Banner Ad
Burger King Fr : itinéraire d'un fake ordinaire
I Voted
the creative internet (106 things)
un bien belle idée de blog je trouve. Très bien écrit. by spookette Apr 23
Word Lens, l'application qui traduit en temps réel
Ikea. Art of Food
This USB Outlet Lets You Recharge Without An Adapter
How trends & creativity become
Truly creative people see things differently.
Posted by Marc van Gurp | 15-08-2010 21:24 | Category: Activism, Media Isn't it strange that the media carefully label any content that involves sex, violence or strong language but there's no labelling system for wacky journalism and other questionable content? (like this blogpost :-) Geek comedian Tom Scott designed a solution for this.
Journalism Warning Labels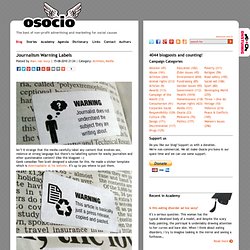 Making Facebook Physical