HDR PHOTO
From the makers of Funtastic Photos » HDRtist
The most important is first step, it is a base of HDR Photoshop effect. Use command image > adjustment > shadow/highlight and set up values: shadows amount: 50%, tonal width 45%, radius 41 px; High-light amount 83%, tonal width 76%, radius 1120px; Duplicate layer "base" and set up its layer blending to Color Dodge . This blending gives picture strong colors and cause that light areas turn into pure white.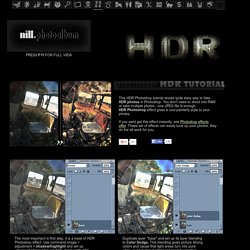 High Dynamic Range image processing tutorial with easyHDR PRO -
Apart from tone mapping settings that give you ability to control local and global contrast there is also possibility to tweak color tone of the photograph. You can modify saturation selectively in respect to hue and brightness. It is also possible to fix white balance by setting color temperature and tint. Tip: If your photo has bad white balance you should try to fix it in the beginning, before tweaking the tone mapping settings. The easiest way to do it is to sample, from the photo, a color that should become neutral - i.e. a white wall that appeared orange or blue on your original photos.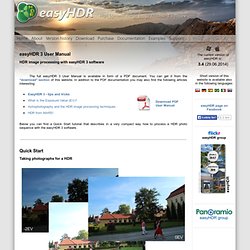 In this post Nathan Pask takes a look at a technique to get HDR Style Images Using Layers in Photoshop. There currently seems to be a lot of interest in HDR or similar processes. What is HDR?
HDR Style Results Using Layers in Photoshop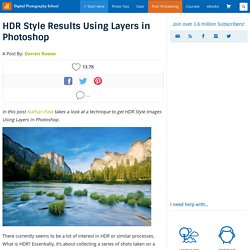 HDR Software Tutorial | HDR Tutorial
The software I use for all my HDR work is Photomatix Pro by HDRsoft .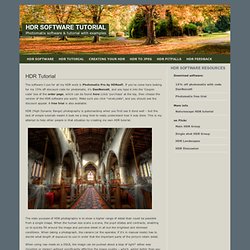 Welcome to the International HDR Tutorial! تتكلم العربية؟ اضغط هنا! Mluvíte česky? Pokračujte zde! HDR Tutoriál v českém jazyce .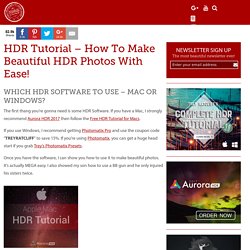 There has been a lot of buzz recently about HDR photography, but many people assume that it's only limited to professional photographers. The reality is that just about anyone can take and process an HDR photo with most cameras and proper HDR software. There are plenty of explanations of what HDR is and how it works, so we won't cover that here. If you want more background info, check out HDR explained so anyone can understand or Jon Meyer's popular HDR primer . In this tutorial we'll go through the steps necessary to take your very own HDR photo and process it like a pro.
How to create HDR Photos - HDR/Photomatix tutorial | Abduzeedo |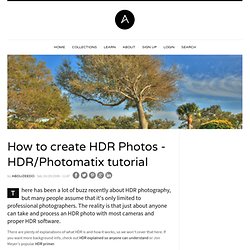 HDR can make the ugliest, run down, industrialized cities seem appealing and beautiful. They seem to capture those cities from a different perspective and highlight different elements from that familiar scene that you would had never noticed before. Below, you will find 50 Beautiful HDR Images from 50 World Cities. Are any of these your city?
50 Beautiful HDR Images from 50 World Cities : Speckyboy Design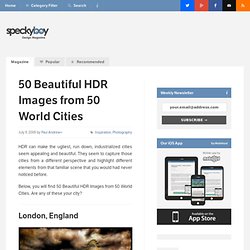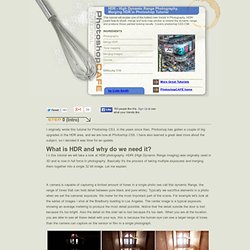 0 (Intro) I originally wrote this tutorial for Photoshop CS3, in the years since then, Photoshop has gotten a couple of big upgrades in the HDR area, and we are now at Photoshop CS6. I have also learned a great deal more about the subject, so I decided it was time for an update. What is HDR and why do we need it?
Beautiful HDR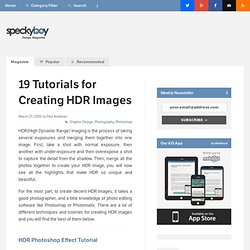 19 Tutorials for Creating Beautiful HDR (High Dynamic Range) Imagery
HDR(High Dynamic Range) imaging is the process of taking several exposures and merging them together into one image. First, take a shot with normal exposure, then another with under-exposure and then overexpose a shot to capture the detail from the shadow. Then, merge all the photos together to create your HDR image, you will now see all the highlights that make HDR so unique and beautiful. Download or Buy Adobe Photoshop CS4 Extended » For the most part, to create decent HDR images, it takes a good photographer, and a little knowledge of photo editing software like Photoshop or Photomatix.
HDR Software Tutorial | HDR Tutorial
19 Tutorials for Creating Beautiful HDR (High Dynamic Range) Ima