DELPHI
DevMedia - asp.net, Java, Delphi, SQL e Webdesign, tudo em um só
.NET Zip Component, Embedded Delphi Database, BDE Alternative, D
Dear delphi.about.com web site visitors, readers and friends who followed my work as the Delphi Programming Guide for the About.com network, the time has come for me to move on to new endeavours. After 15 great years I'm leaving About.com. I've started working as the Delphi Programming Guide in 1998 (days of Delphi 3) and have continued publishing tutorials and articles geared at beginner and advanced Delphi developers. NO, I am not leaving Delphi.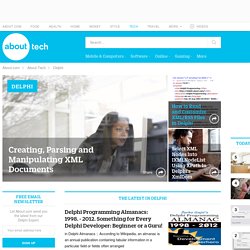 Other languages Clipper, VB, .. Mailing list => receive a mail whenever the DELPHI-BOX is updated! Tell a friend.. => tell a friend about the DELPHI-BOX! Awards.. => Awards Richey's DELPHI-BOX has achieved Sponsored links: click here if you want to see your sponsored link at this place!
Richey's DELPHI-BOX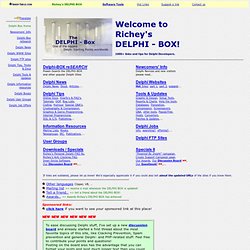 Who Can Get Payday Loans ? If you have had money problems in the past, they show up in your credit history and make it difficult to get a loan. Even if you have a poor credit record, payday loans no credit check are still available to you. When you apply for a payday loan, all you need to prove is that you are employed and receive a regular income. Even part-time employment is usually acceptable as long as you receive monthly or weekly wages.
delphi3000.com - The Platform for all Delphi-Developers
DelphiSource
Delphi Super Page
Planeta Delphi - Planeta Delphi - Acervo de apostilas, dicas, ex
Motions for reintroduction of Visual Basic 6.0 on the market, in parallel with Visual Studio line I prepare an article related to the reintroduction of VB6 programming language on the market. But, it seems that yesterday someone took this initiative before me and I think that is a commendable thing because we all want to see VB6 on the market again. Source: http://www.codeproject.com/Articles/710181/Visual-Basic-6-0-A-giant-more-powerful-than-ever Convert Large & Small Text Files to PDF inside Android Applications Android application. We often get queries from customers who would like to convert their text files to PDF.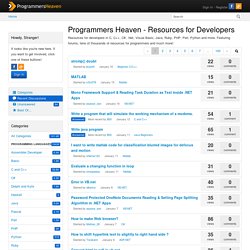 Welcome to the new platform of Programmer's Heaven! We apologize for the inconvenience caused, if you visited us from a broken link of the previous version. The main reason to move to a new platform is to provide more effective and collaborative experience to you all. Please feel free to experience the new platform and use its exciting features. Contact us for any issue that you need to get clarified.
TMS Software | VCL, ASP.NET, Windows Mobile, .NET controls & com