Giftwrap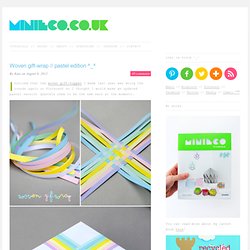 By Kate on August 8, 2012 I noticed that the woven gift-topper I made last year was doing the rounds again on Pinterest so I thought I would make an updated pastel version (pastels seem to be the new neon at the moment). I bought some quilling strips (0.5cm) to use this time which reduces the labour by about half (I've also been working on some more intricate woven 'things' for another project…more to come soon).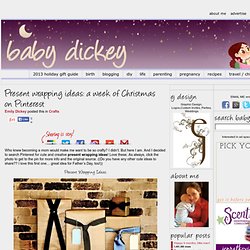 Who knew becoming a mom would make me want to be so crafty? I didn't. But here I am. And I decided to search Pinterest for cute and creative present wrapping ideas! Love these. As always, click the photo to get to the pin for more info and the original source.
Every year I try to come up with unique ways to wrap the Christmas gifts. Last year I went with monograms on kraft. This year I am sticking with kraft paper (is anyone surpised?)
Callaloo Soup: Vintage Gift Wrapping Ideas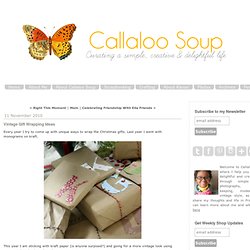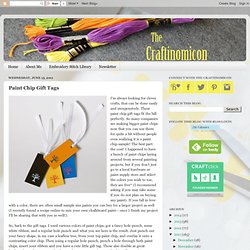 I'm always looking for clever crafts, that can be done easily and inexpensively. These paint chip gift tags fit the bill perfectly. So many companies are making bigger paint chips now that you can use them for quite a bit without people even realizing it is a paint chip sample! The best part: the cost! I happened to have a bunch of paint chips laying around from several painting projects, but if you don't just go to a local hardware or paint supply store and select the colors you wish to use, they are free* (I recommend asking if you may take some if you do not plan on buying any paint). If you fall in love with a color, there are often small sample size paints you can buy for a larger project as well (I recently found a recipe online to mix your own chalkboard paint-- once I finish my project I'll be sharing that with you as well!).
Paint Chip Gift Tags
Gift Wrapping Ideas
Last night I was wrapping up my gift for the Cold Hands, Warm Hearts gift swap by Much Love, Illy and SandyALaMode, and I realized something. I may be "crafty" but I am sort of awful at wrapping presents. I rip the paper when I'm cutting it. I end up with way too much paper, which results in messy folds.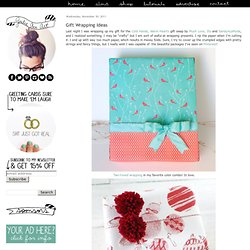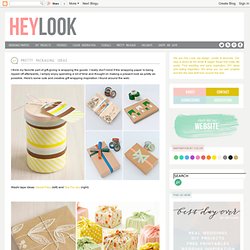 I think my favorite part of gift-giving is wrapping the goods. I really don't mind if the wrapping paper is being ripped off afterwards, I simply enjoy spending a lot of time and thought on making a present look as pretty as possible. Here's some cute and creative gift wrapping inspiration I found around the web: Washi tape ideas: Sweet Paul (left) and Tea For Joy (right)
Bundled
DIY Miu Miu Sneakers Do you remember the last time you Sharpie-d or embellished a pair of sneakers? For us, it had been far too long so when we saw Miu Miu's latest glittery sneakers for fall, we were anxious […] DIY Braided Bead Bracelet It's been awhile since our last bracelet DIY. I don't know about you, but our wrists have been begging for another colorful addition for months now.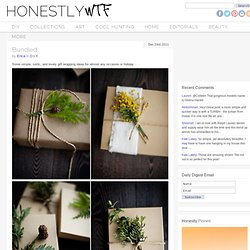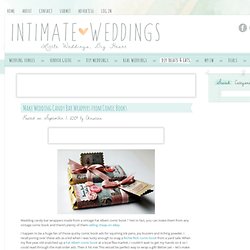 Posted on September 1, 2009 by Christina Wedding candy bar wrappers made from a vintage Fat Albert comic book ? Yes! In fact, you can make them from any vintage comic book and there's plenty of them selling cheap on eBay.
Make Wedding Candy Bar Wrappers from Comic Books
When I bought something at a store recently, the clerk handed me my purchase in a bag made from a newspaper. I liked it very much and had to make some more—thus today's DIY recycled newspaper project: gift bags made from the Wall Street Journal. You can vary the dimensions, of course, but here's what I used to create a bag that's 5" tall, 4.5" wide, and 3" deep.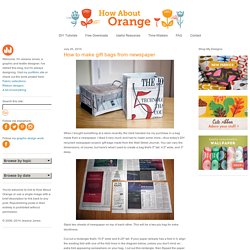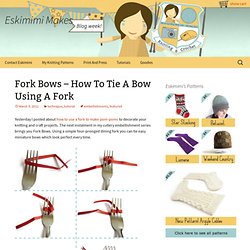 Yesterday I posted about how to use a fork to make pom-poms to decorate your knitting and craft projects. The next instalment in my cutlery embellishment series brings you Fork Bows. Using a simple four-pronged dining fork you can tie easy miniature bows which look perfect every time. 1.
DIY Green Gift-Wrap
From the blog Compai comes this totally wild idea- gift wrap made from nature. Both easy on the budget and on the environment, this DIY project is the perfect solution for those of us looking to do something unique with our gifts this holiday season. It's as simple walking into your backyard and finding inspiration! Aren't these so gorgeous? I wonder how long they'll keep for... might just have to store gifts in the fridge this year :)