Social Media
http://socialmediainhetmbo.nl/boekje
Language: English Bahasa Indonesia Bahasa Melayu
Spitje : Verwennerij! #workshop #so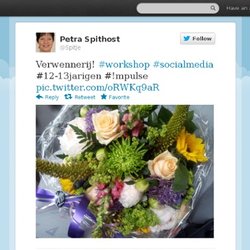 Theo is online!
Het Nederlandse spoorwegennet in tweets
Twitter is een echte goudmijn voor allerlei data. Het delven van dat goud is nog niet zo eenvoudig, maar zo af en toe lukt het om een klompje te vissen uit de enorme hoeveelheid tweets die iedere dag worden verstuurd. Deze week meldden we al dat onderzoeker Erik Tjong Kim Sang van de Rijksuniversiteit Groningen vrijwel alle Nederlandstalige tweets verzamelt.
Fragmentation For consumers there will be more and more improvements on mobile, UI, and ease of use to produce dynamic content on an ever expanding number of social networks. We have yet to find the maximum number of social networks consumers are willing to maintain. The average continues to go up. Facebook growth suffers from this. Though they are still innovating enough to survive as the king of the hill.
What is the next trend in social media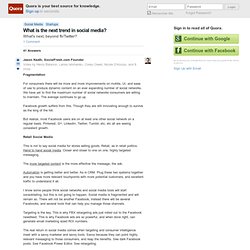 KvK Netwerk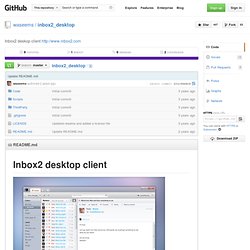 README.md Inbox2 desktop client This is the source-code for the Inbox2 desktop client.