Share Documents
Slideshare. TweetCube. 12 x slideshow publishing. Creating slideshows can be an excellent way for students to summarize their learning, share their what they've learned, and to share their ideas.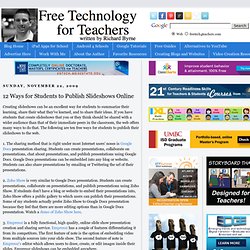 If you have students that create slideshows that you or they think should be shared with a wider audience than that of their immediate peers in the classroom, the web offers many ways to do that. The following are ten free ways for students to publish their slideshows to the web. Posterous. Shozu.
Box. Docstoc. FileSocial. Dropbox. Issuu.
---